Oniken is a 2D platform action indie game that make use of 8-bit graphic style. My friend Pedro Paiva and I are putting a great effort to guarantee that this game feels really like an 8 bit classic. Everything on Oniken, from the character design to the music, is a tribute to the 8-bit action games from the NES era. So if you like old-school games be prepared for Oniken and remember... Oniken is NES hard!
By purchasing Oniken, you will also get with no extra charging Oniken´s Manual and Original Sound Track composed by Thommaz Kauffmann, Bruno Araujo and N-Freq.
*** Mac and Linux version uses wrappers. They're not a port, however in almost every machine that we tested the game it runs without any problem. However if you had a problem please e-mail us!
Hey everyone, here some notes about Oniken v1.7 This new update will allow Oniken to be updated and activated without Desura's client.
Posted by Danilo_Dias on Oct 14th, 2012
This new update allows game update via Launcher, so you guys will don't need to update via Desura client anymore.
We're also putting a stand alone activation method, so if you buyed Oniken and did not activated yet via Desura, you can make this using the in-game Launcher.
So, our next next update will be made via Oniken Launcher, without any other external software or webpage.
For now on, you guys will see the launcher like this: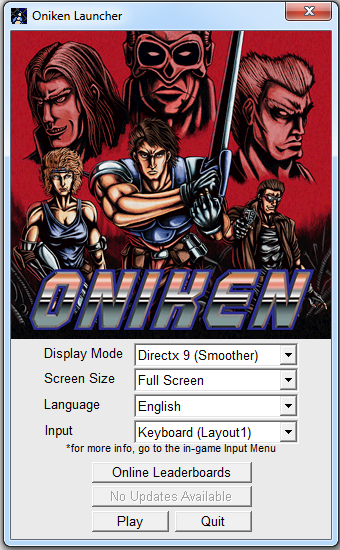 After this update you will see the "No Updates Available" message ready to be clicked. So you just have to click in the button and wait for the download finishes.
Oniken now also have French language support thanks to Bobby Roy and Czech language support thanks to Šmirgl Vojtěch.
IMPORTANT
If you get any "connection error" message from the launcher in the next update, make sure if Oniken's folder isn't in a protected folder. If so, execute the launcher as administrator.
Thanks to everyone!