Zombie Panic: Source is a co-op oriented Survivor Vs Zombie multi-player survival horror modification for HL2. While our main priority is to make the mod as fun to play as possible, ZP:S plans to greatly expand on the core features of "Zombie panic" For HL1, with the obvious new features, impressive visuals, and of course atmospheric maps. More importantly ZP:S will not force players to fend against dumb and predictable AI, but instead keep the same intense thrill of surviving against intelligent and persistent player controlled zombies as the original.
Player's Choice Winners Showcase
After rounding out the best of 2007, we're ready to present the results.
Page 2 of 4 Event Coverage Posted by stenchy on Jan 28th, 2008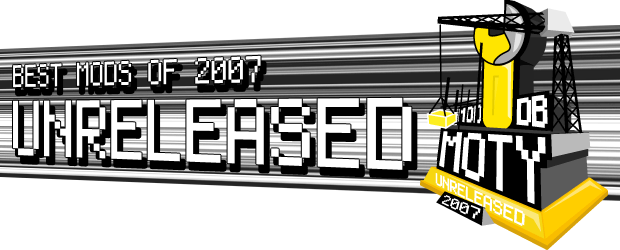 A honorable mention is due to the mod Black Mesa which continues to poll extremely strongly year after year, but misses out on a place in the top 5 because you cannot win a spot in the best unreleased category twice.
---
5. Operation Black Mesa - Prepare to go back to Black Mesa... again. Operation Black Mesa is an extended re-creation of the popular Half Life add-on, Opposing Force. You'll once again be strapping on the boots of Corporal Adrian Shepard as you make your way through the revamped and albeit highly detailed Black Mesa Research Facility. Additionally, the team plans to add new areas and enemies to the fray so this unofficial redux has more to look forward to than just eye candy. It looks to be a promising effort from team behind Operation Black Mesa, which is why players chose it as there number five spot for unreleased mod of the year.
4. Mechwarrior: Living Legends - Looking at this mod makes one wonder, who doesn't like robots? The MechWarrior: Living Legends team hopes to satisfy your thirst for robotic destruction on wide open environments and look good while doing it. So far, the updates have been fast and furious, showing a number of fancy mechs armed to the teeth. Of most interest are the videos like the one below which show some of the environments where battles will take place. If MechWarrior is sure to take full advantage of all the features the CryEngine 2 has to offer, this mod won't be a disappointment. Players voted MechWarrior: Living Legends number four for unreleased mod of the year.
3. Barney's Tales - Did I say we were done with the Black Mesa Research Facility? Well, we aren't. This time you will be dressed in security apparel as you play the role of the infamous Barney from the Half Life series. Barney's Tales (formerly Blue Shift: Source) is an unofficial remake of the the last expansion pack release for the aging Half Life 1. This remake is expected to focus more on realism, using real-world US Army soldiers as a reference. Drivable vehicles are also planned. Together with other projects being developed out there, it looks like we'll be able to play through the original series all over again in the Source engine sometime in the future. To add to the lavishly detailed media they've already released, the folks over at Barney's Tales have put together an exclusive video sneak peak for us which you can look at below. Barney's Tales comes in at number 3 for unreleased mod of the year.
2. Jurassic Park - Jurassic Park the movie is one that sticks in the minds of many. It set a new standard and brought terrifying monsters to life on the silver screen; creatures that, long ago, actually existed. The Jurassic Park mod team has set out with the aim to capture the same magic that both the movie and book encapsulated and bring it to the CryEngine 2. In the mod, players will be put into the shoes of Dr. Alan Grant, paleontologist extaordinaire, as you make your journey to get off the island. Few games out there have been able to pull off dinosaurs convincingly so the team has their work cut out for them. However, from the concepts and renders provided so far, they have gained a lot of interest and seem to be off to a good start. As a treat, we have a first look at a fully textured Velociraptor for your perusal further down. Fans obviously can't get enough dinos and that's why Jurassic Park is the number two unreleased mod of the year.
1. Zombie Panic: Source - A zombie outbreak has made your town, with the exception of a select few, void of any life. All that remains are the undead and you, along with a few other survivors, have to fight them off with whatever means possible. What do you do? Do you stick together or fan out and search for ammo? The premise behind Zombie Panic is simple: survival. While the mod is available to download now, (it was unreleased before voting had begun, therefore in the unreleased category) it was quite apparent throughout development that this project would be one out of the many zombie survival mods out there to deliver the goods. Stunning visuals, eerie music and top-notch voice work help make the paranoia seem just a little bit too real. The more weaponry you pick up, the more you slow down- making you an easy target to munch on. The further a round progresses, the deeper the feeling of desperation sets in as you run thin on ammunition and the undead grow in numbers. Whether you're running away from the shambling hordes or hunting for players to tear limb from limb Zombie Panic delivers on all fronts. If you want a quick peek at the gameplay, check out the exclusive trailer below. Players hungered for a taste of Zombie Panic, more than any other mod, which is why it was voted as the number one unreleased mod of the year.