The Xenoforce Reborn mod takes the classic Xenoforce mod from CNC Generals and re-invisions it on the CNC3 engine with new units and new designs. The new armies that are currently scheduled to be in the mod are the Earth Federation, ZEON, the Invid, and the Earth Robotech Defense Force. We also have heavily modified the original CNC3 armies, giving the GDI, NOD, and Scrin a much more dynamic gameplay experience. This mod is NOT FOR PROFIT and NON-commercial based.
There has been an update to Xenoforce : The Original 3. This update slightly modifies GDI and NOD, but drastically changes the Scrin.
Posted by azuza001 on Jun 28th, 2011
We've been listening to what everyone has to say about our new system in the CNC universe, and most of it has been positive! I want to thank everyone who tried the last version and given their feedback.
After the first release it became apparent that GDI and NOD were definitely where they needed to be.  The Scrin however needed some support.And because of this we now present Xenoforce : O3 1.1.  There are quite a few change to the Scrin here so I'll try to keep it short.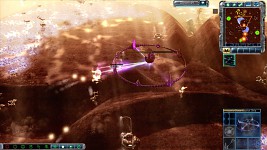 The biggest change comes in the form of the Motherships.  Instead of being called Motherships we have renamed the ships Capitol Ships, not a big deal but they are now no longer deployed as a special power.  Now Capitol Ships are built from the Signal Transmitter. The Iconic Class Capitol Ships now have a primary weapon system and a secondary weapon system.  The primary system is based around the main cannon, the planet cracker.  The secondary system is a quad lance system.  Instead of focusing the energy towards the main cannon the system redirects the energy directly at the enemy.
We also have changed the way the powers work a bit.  For example, the Tiberium Field Generator has been removed.  Now when you pick this upgrade all of your Tiberium Stimulator's turn into Field Generators.  This drastically increases the output of Tiberium from a field.  
Storm Riders, Shock Troopers, and Annihilator Tripods now use plasma guns instead of plasma cannons.  The special effect is slightly different and the weapon has a much better chance to hit the target.  Tripods also automatically upgrade to lance systems from plasma guns when you pick the Tiberium Laced upgrade.  
Finally Annihilators and Drone Ships have been given blink abilities.  The Drone Ships ability though go's to the next level allowing you to blink anywhere on the map that you can see.  This helps speed up the ability to expand your Scrin base.
I'm sure I've missed a few things, but lets call the rest incentive to go try it and find out.  Again, thank you for your support and I hope you enjoy it.