Grimm Quest for the Gatherer's Key is a Hack and Slash Fantasy game with some platforming elements that leans heavily on extremely bloody and satisfying gameplay. Players can explore a huge world that often offers several different routes that lead to accomplishment. Almost every part of it is customizable to taste, not only the graphical aspects but also it's gameplay aspects.
Out of Fire and Ice he arose
A short update and introduction of the second hub. New screenshots added!
Posted by grimmquest on Jul 28th, 2012
Hi thanks for stopping by, make sure to check out the latest screenshots in the images section!
Hub 2!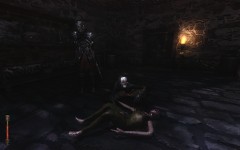 Grimm: Quest for the Gatherer's Key is an exploration of the idea of going 'deeper and deeper' into the realm of Purgatory. Purgatory is not really Hell, Heaven or the Purgatory you might know in the biblical sense. Also, Grimm might be far less literal than it might seem at a glimpse. It is not a logical world, rather a conglomeration of distinctive realities crossing each other. The very fabric of space between Heaven, Hell and Earth which has been distorted both in space and in time. More on that later both on the site here and in the game itself.
I have started work on Hub 2 several months ago. Before starting work on Grimm I knew that as a one man team I had to implement lots of stuff to make development easier on myself. I keep pushing the idea of 'running production', how do I make stunning maps without a lot of effort? The answer is standardisation, of course. And some tricks in fooling the player and engine. The idea was to creature textures that were all aligned, already had floor and ceiling trim added for the wall, were already aligned with added details like wood finishings. The textures then also provide the right size for walls and ceilings making blocking, texturing and detailing a one phase process instead of three, which gives me more time to work on gameplay and scripts.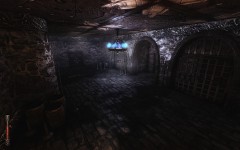 This all didn't really come to fruition in the first hub until the third map where I got the techniques down a bit better. You can notice this in the first two maps where nearly each door is of a different size, most rooms were built differently and you see differences in styling between the rooms, as if more than one architect was working on it. I've gone over them a couple of times to get a more standardised look and make a more cohesive whole. I've used all of these ideas about standardisation and have advanced them in the second hub, which is my first real 'standardised' hub. This gives a much more cohesive look to the rooms and the entire map, adding to the immersion.
Styling
Each hub in Grimm has it's own distinct style and colouring.
Where the first hub was distinctively yellow and red presenting the heat of Purgatory, the second hub is cold, presenting the icy depths of this strange world between Heaven, Hell and Earth.
Hub 2 is all about the cold and going deeper into Purgatory. The deeper that Grimm goes, the more stuck he will get and the more slow his progress will become. This is an idea that will work for the first two maps of the hub, where the last map should feel like an explosion of freedom (and release) for the player. Especially the second map should feel very claustrophobic, when Grimm gets stuck beneath parts of an underground cathedral and will have to fumble his way through dark and low catacombs to freedom, constantly working on the players feeling of getting more and more stuck the farther they go. I hope that the third map will then come as a great release, when they find freedom and enter the action and more combat based third map.
Interested in more screens?
Check out the images section!
More updates and media to come soon!