Welcome to my page! Here you can look at some of the WIPs and mini-previews I've posted for my Rise of Nations mod, Kings and Conquerors: The Hellenistic Era.
The Hellenistic Era - a mini preview
Kings and Conquerors: The Hellenistic Era is a total conversion mod for Rise of Nations: Thrones and Patriots, that aims to bring the Hellenistic period to life. As a total conversion mod, it adds a new set of factions and a large number of new units and buildings.
However, it is often the smaller changes, the ones that take 10 minutes to implement, that really establish the idea that this is something new and exciting. As some inspiring person once said, "it is the little things that count". So we are taking that advice to heart.
Okay, that was really cheesy. Anyway, we have made some changes to the menu and the loading screen to make them more Hellenistic-Era-y.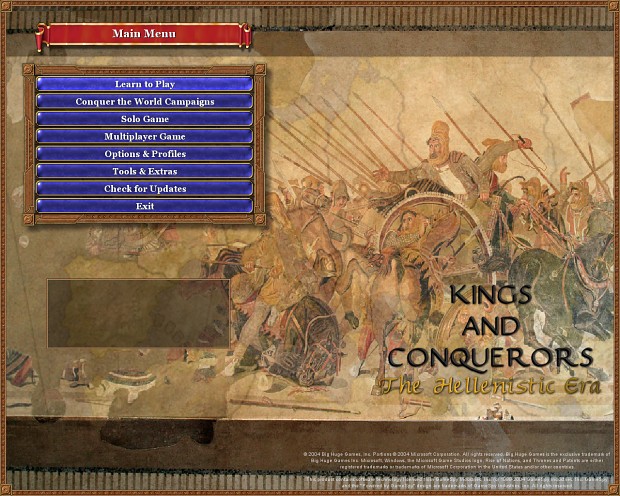 So this is the main screen. You can see that we replaced the Rise of Nations logo with the mod's one. Like the original logo, you can change the lighting of it by moving your mouse pointer around. It's totally useless I know, but it looks fancy. The background shows the Alexander mosaic, which was made in Pompeii in around 100BC. It's supposedly based on an earlier Hellenistic work. We mixed the picture with a Conquer the World Campaign map, which is why you can see Spain. We also realise that the new background has made the lower part of the legal notice unreadable, so we apologise to those who enjoy reading the legal fine print.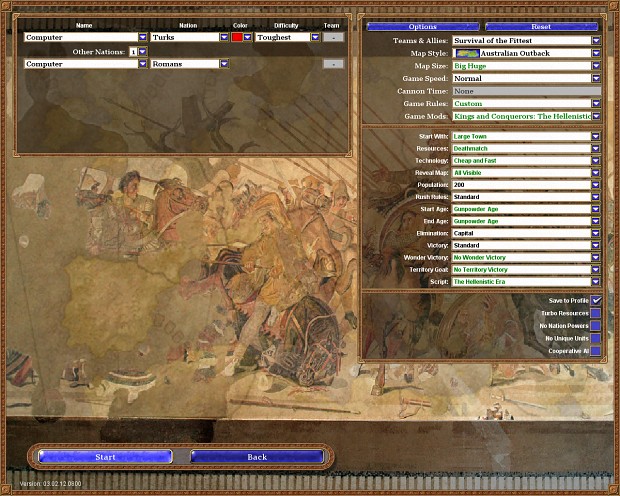 You could only see Darius on the main menu screen but now you can only see Alexander the Great. I'll pretend that the convenient placement of the two kings wasn't a coincidence.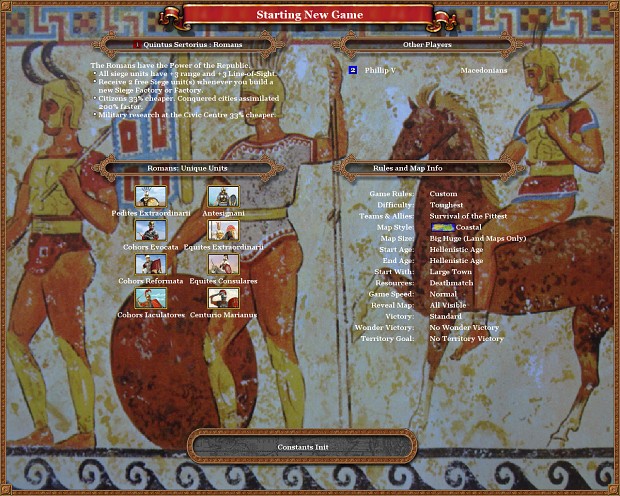 And here's the loading screen. Those soldiers are Samnites. You can tell by their very short patterned tunics and the feathers on their helmets. The Samnites never got on well with the Romans, fighting a number of wars against them before being conquered, and then rebelling whenever the opportunity arose.
In this picture, you can also see some new icons for the Roman units, and there is something new mentioned in the Rules and Map Info. If you correctly guess what it is, I'll show you some pictures of this new thing. I know, Christmas is coming early this year (if anyone gets it right, that is).
Well that's all for today's mini preview. The backgrounds are WIPs, which is why I'm not posting it on the official mod page ('official' makes it sound important doesn't it?). The Samnite picture is going to be darkened a little more, to make the writing clearer, and I'll be adding new buttons and borders. If you have any suggestions for new buttons or borders, please let me know.