I am a computing enthusiast having graduated college in the fall of 07. Now working as a professional programmer I work on my personal projects in the evenings and on the weekends. I have been a part of a handful of mod teams, the most noteworthy was BS productions back in the late 90s. I worked a short time for the now defunct Grimware and shortly there after dropped all mod and game work for school. I then started work on 2 mods, greased with lovin, a mod that I had to drop because of engine instabilities in xp. I also started Gundam Annihilation which is now Gundam RTS, this project is my baby and I spend much of my time doing that. Lately I started a small side project with a few guys called towerdefense. Both Gundam and towerdefense are currently being worked on and I hope you will enjoy watching their progress.
Today at work I was informed that one of my old teachers passed away. Robert McMorrow, or Bob as we all knew him, was a huge part of my life while at university. Bob was the sort of involved instructor that went out of his way to help his students or generally anyone enrolled in the Computer science curriculum. He constantly engaged us and pushed us to perform better, while not always necessary it gave us that extra character that can only come through effort. He used to tell us that to come in and see us bright eyed and eager to enter the world of computer science was a great feeling. He felt that through helping us, he shared in some of our youthful zeal and vigor.
He was one of the instructors at my university who I constantly tormented with my unorthodox coding and little nerd pranks in my code. Everything from using numbers rather then characters for alphas to scrolling and beeping rainbows at the end of my little turbo C++ programs. Such code finally prompted him to give a small speech after one assignment: "I don't want any smiley faces, no colors, no noise, no exploding bodies...." the whole time staring at me. I often took him over easier professors because I knew he would make me work harder and would truly look at my code.
He was constantly active helping our local ACM group out, popping in the lab to pick on us and helping us through personal problems. Even if you were not his student his door was open and all those of us who were computer science majors felt almost like he was a father away from home. When he finally left our university and pursued his doctorate we were sad to see him go. It has been years since I had last seen him but his lessons founded the core of what made me a programmer.
In his passing I found myself sad that I could not spend more time with him at while I was enrolled at university. Then I recalled a day after one of his classes just ended I walked in with my camera. He furrowed his brow at me and asked "why would you want a picture of me!" Of course to him, it was a bit silly but I told him that you never know, and snapped a shot.
I told him that he was important and I wanted to have a good picture to remember him by. I then asked him to take a picture. He kind of chuckled, and said sure. I forget who took the picture, but now that he has passed on, I am happy I have it.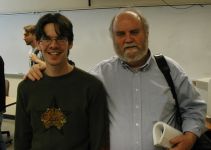 a young smoth and his mentor
So, I guess my thoughts to you guys would be this:
Take pictures, remember that people are not going to be around forever. To those of you still in college, keep close these days, take pictures, make friends and be sure to appreciate the teachers who care enough to help you. I now warmly smile as I see the man who helped me through many troubled times, frozen in time.