Fall of Angels is a JRPG currently available for iOS. An updated and expanded port is being developed for PC; a demo is available for download from our website. With Fall of Angels we wanted to blend a story driven adventure with puzzles and exploration, so we have filled the game with tools to use, first-person interactive puzzles, abilities to learn, and multiple game modes.
I face a dilemma. Well, not really a dilemma. It's one of those times like lighting your own farts on fire to impress a group of girls, or smelling your finger. You know that there's a potential for debate there, a choice with pros and cons attached to each course of action, but at the same time you know you've already made up your mind. It's better to sniff and regret than to always wonder if this time around it smelled differently to the last.
I forget what my point was.
Porting. Fall of Angels has been out on the iPhone for quite a while now, and it's received great feedback from the people that have played it- but not as many sales as I had hoped. I didn't have aspirations for millions (though of course it would be nice), just enough to enable the development of the next game. Or enough to afford socks. Looking at the options, I don't have a team of artists willing to work for me for free, so Final Fantasy 13 quality graphical prowess showboating is not on the cards. I don't have a marketing budget beyond wearing my 'Fall of Angels' t-shirts around town. But I believe in this game, I really do, and nothing in my life so far have I been so passionate about. I want to keep going with Fall.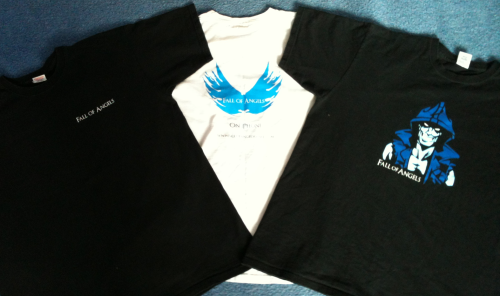 Not pictured: Fall of Angels bathrobe, underwear, lunchbox, and food stains on the front of the white shirt
So what about porting Fall of Angels to another platform? I had wanted to see if it took off on iPhone first, and the financial repercussions for time spent working on it are a concern. It theory I should get an office job and get a steady income again.
In theory I should stop quoting Doctor Who in bars too, but if I did that where would I be now? Not single probably. But the day a girl recognizes one of these quotes, and finds my tourettes-level discourse to be endearing, is the day that I'll look back on and forever wish that I didn't ask that girl to smell my finger.
So I reckon I'm going to do it, beginning with a PC port. It'll be more time spent being poor, and it's not guaranteed to pay off, but damn it I enjoy doing it and hopefully it will lead to the next game.
If anyone else has had any similar experiences, do tell- I'd love to hear how it went!