The arcade-style FPS returns! Wrack is an arcade-style FPS that draws inspiration from classic games across multiple genres -- Doom, Contra, Mega Man, etc. -- that puts its own unique spin on things! Between its fun and unique gameplay, its vibrant cel-shading, and its compelling characters, Wrack strives to be a modern day classic!
Play as Kain Sager - the one man prepared for a crisis in a utopian future. Battle your way past hordes of monsters, traps, and bosses as you single-handedly take down an invading alien empire, and save mankind from certain doom!
Wrack E1M5 Update Released
Wrack is an arcade-style first-person shooter that pits you, Kain Sager, against the invading Arcturan empire! Battle your way through hordes of monsters at blistering speeds as you single-handedly attempt to save mankind from certain doom! Available now on Desura! This update adds a new map, a new boss, chain sounds, and lots more! Check the full story for a complete changelog.
Posted by Carnevil on Oct 17th, 2012
... and then there were five!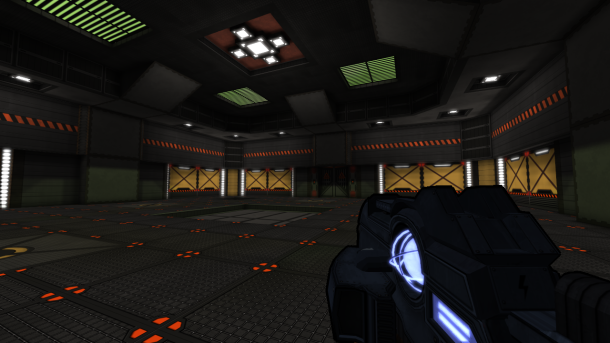 That's right - this next big update for Wrack contains the fifth level of Wrack - E1M5! It's something a bit different from the others, so I hope you guys enjoy it. This update also adds the newly completed HUD, as well as chain sounds that play as you blast monsters in succession! Feedback is appreciated as always!
Anyway, here are the details:
ADDITIONS/UPGRADES
Added the next chapter of Wrack - E1M5! This map completes the Recycling Center, and introduces a brand new boss - Gnash!
Completed the HUD! The HUD is now essentially complete (unless we change minor things later).
HUDs can now be customized for mods! The new "huddef" folder now controls which graphics are displayed and where. This system may be expanded in the future.
Added chain sounds! Escalating sounds now play when you chain kills together. Really adds a lot to the game!
Simplified main resource loading in the editor! Now, all you do is specify the Wrack installation folder, and it takes care of loading the resource files required by the editor! It also uses the same folder to run Wrack.exe to test your map.
Added an option to allow you to swap the functions of the left/right thumbsticks (move/aim). Helpful for left-handed people!
Gamepad-specific game elements (vibration, specialized binding strings, etc.) now only
apply when the player's last inputs came from the gamepad. This allows Wrack to seamlessly switch back-and-forth between gamepad and keyboard/mouse mode.
Changed "gm_usegamepad" to "gm_enablegamepad", and it now defaults to true.
Added hud_displayspeed, which allows you to display your instantaneous speed.
Added a new title screen.
Optimized the buildings on E1M1 to speed up loading times and rendering.
Cleaned up the texturing on the sentry.
Added some blocking faces to the sides of the elevators on E1M2 and E1M3 so that you don't bump your head.
Simplified one of the jumping puzzles of E1M2.
Swapped the max. health bonus and one of the large gold bags on E1M2.
Wrack's mods are now done through .wpk files! These are standalone mod files which should be opened with Wrack itself. This replaces .wrm files.
FIXES/CHANGES
 
Fixed a bug that would cause objects resting on lifts and other moving faces to move at twice the rate of the lift itself upon restoring a quicksave. This resulted in Mechron being dumped right into the lava on E1M3 any time you got to him after loading a quicksave.
Gave the game's main data files more appropriate file names.
Fixed a bug that would cause featured maps to be played in time/score attack mode if you previously played a map in one of those modes.
Fixed a bug which caused the mouse to not highlight the proper menu items in the pause menu.
Restored gridtrim.png to its rightful location.
Removed the "hudgraphic" ammo property (the same graphic is displayed on the HUD for all ammo types).
Lowered the comma font graphic slightly.
The jump at the end of the left hall from the first room is no longer flagged as being a secret on E1M2.
Also, don't forget to vote for us on Steam Greenlight!
Enjoy!