From the earliest PadMaps came the mod PadWorld, and now from that distinguished provenance comes the next colourful evolution, the World of Padman. Developed and headed by the professional cartoonist and illustrator ENTE and his team, PadWorld Entertainment proudly present a free multi player game for Windows, Mac OS X and Linux that's powered by an extended ioquake3-engine.
Please post all support issues in the forums for the game.
Meet doomdragon, ENTE and Kai at GamesCom in Cologne on Thursday, August 16th. It's the biggest international gaming expo of Europe. See you there!
Posted by Kai-Li on Aug 15th, 2012
Three crazy members (watch the photo) of the World of Padman development team met at GamesCom in Cologne, the biggest international gaming expo of Europe, back in 2010. Two years later doomdragon, ENTE and Kai will meet there again on Thursday, August 16th. If you'll join the gaming masses too, watch out for those blue shirts with the WoP icon on it. If you like, don't hesitate to get in contact with us. Maybe you have to search a little, because we are there as simple visitors like you and everyone else. It would be nice to meet some community members or WoP fans. See you there and come back visiting our website a few days later. We will prepare some expo-report for you.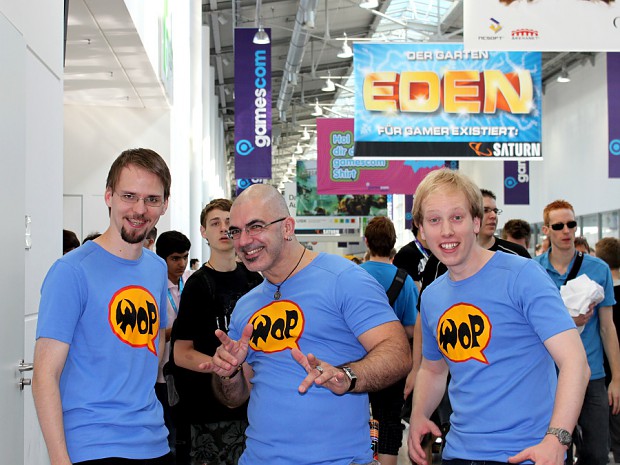 Furthermore there is a new Ashley Appletree webcomic available, created by our talented model artist Sebastian Henke aka doomdragon. It's an all ages comic introducing Ashley and here family moving into a new house in Swampton. There she stumbles upon adventures and discovers something supernatural. Sebastian shows off a wonderful and great sense of humour which keeps you smiling for sure. He releases his lovely comic every Monday, Wednesday and Friday. You should go checking it out immediately or follow him on Twitter for news and updates. Thumbs up for this!  
Please join/follow us here:










RSS news feeds in English and German