The Tank Game is an arena shooter featuring a diverse set of abilities and weapons.
Figuring out how to use the items you are currently holding in order to turn a situation in your favour will be far more important than just having a steady aim. Much like the quake and unreal games of old items re-spawn periodically on the map rather than being given to you upon spawning. You must control these resources while also attempting to deny them to your opponents in order to prevail.
The game has a strong emphasis on multiplayer and you can play with up to 5 friends on one PC in head to head multiplayer or CO-OP modes. Online and LAN play for more players is also supported.
- This game is currently in development, so is the name... If you have any questions please ask!-
The Tank Game Patch 0.9.7.3 released!
The Tank Game Patch 0.9.7.3 released: Gatling guns!
Posted by ttgdev on Mar 7th, 2013
Update 0.9.7.3 steps into the light bringing with it a new turret type. 
The new Gatling gun turret features a high rate of fire and damage output, however it suffers from decreased accuracy and requires a short spin up period before firing.
The turret can also overheat from prolonged firing resulting in a reduced rate of fire until cooled down.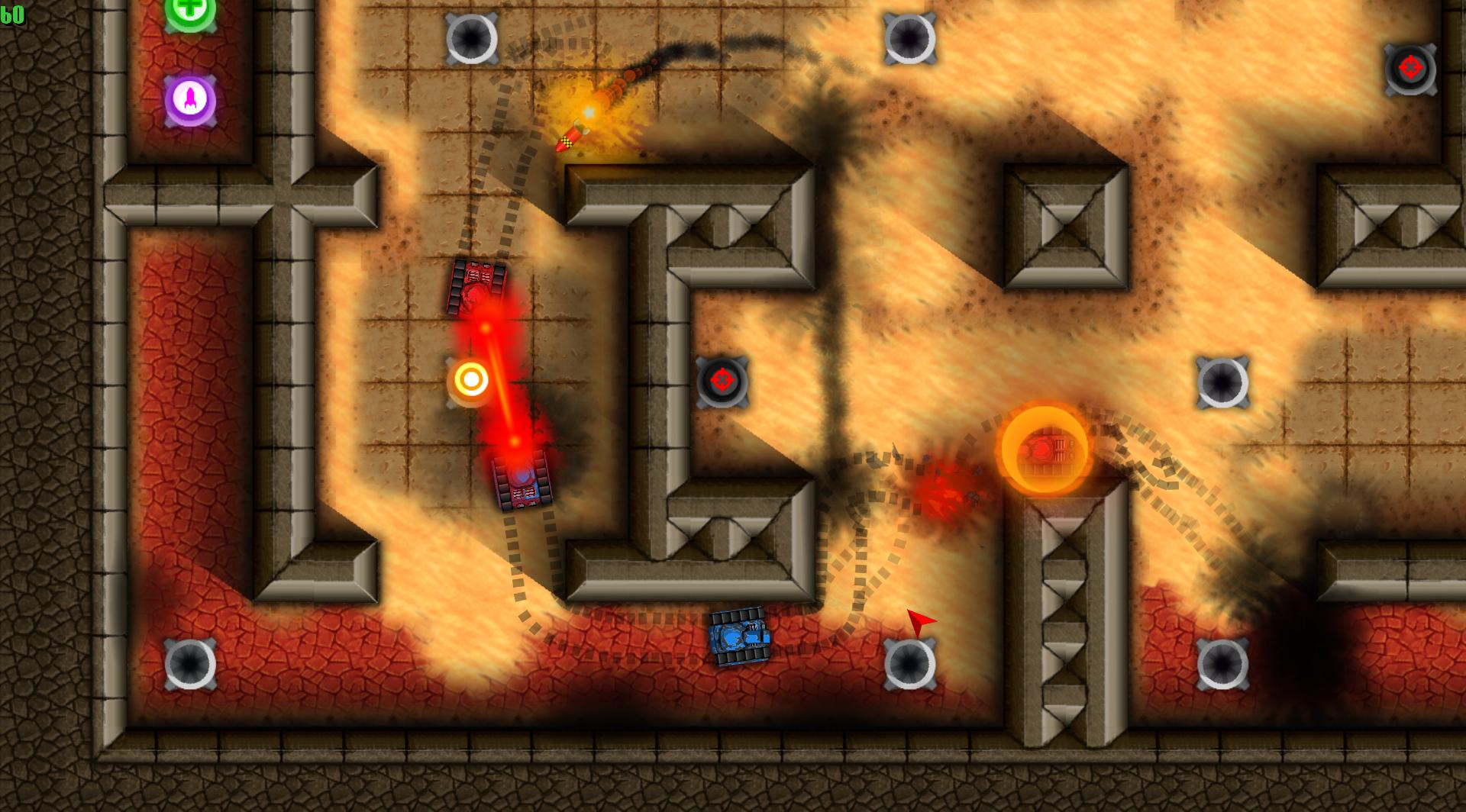 Other changes include some visual improvements to the boundaries of levels and lighting effects from map items.
Until next update!!
0.9.7.3 changes
Added new Gatling turret for tanks 
Added tanks now receive lighting from nearby items
Added improved visuals for level walls and boundaries 
Added rock/cave tiles now receive lighting effect like other tiles
Fixed bug where tank turrets would have incorrect angles in replays 
Fixed bug where tanks would spawn at incorrect times in replays
Fixed some menu navigation bugs 
Changed layout of a number of maps
Other small changes and additions