New Alpha now available (Windows, Mac & Linux)
At last! A new alpha is here, which marks Rotion's Mac debut. Also included: the new level editor, AI improvements and various fixes.
Posted by novemberdobby on Apr 3rd, 2013
Alpha 1.5 is now available on all 4 platforms (Windows, Mac, Linux 32 and Linux 64).
Here's the changelist:
Added new level editor
Added new AI shape: pulsers
Added nicer effects on some powerups
Added auto-search for assets folder when it can't be located
Added vertical sync option to menu
Added achievement for popping an imploder straight away
Added about a year's worth of SFML updates
Added new music track
Added better random AI generation
Added visual aim assist helpers
Fixed crash on pressing cancel in the 'unsafe close' dialog
Fixed various shader problems on each platform
Windows: fixed taskbar icon
Linux: fixed input bugs in fullscreen & startup dialog boxes
Linux: changed vertical sync to default to on
Mac: released first build
See below for cross-platform goodness ;)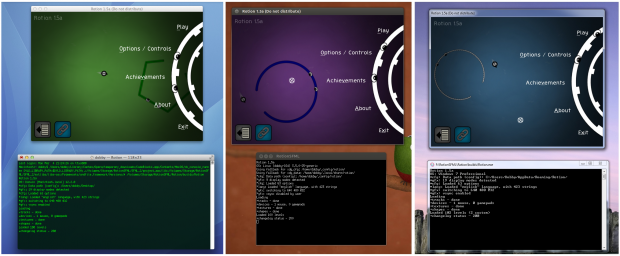 And here's a video of the new visual assist in this release:
I hope to start rounding things off and finishing the campaign from now on!