Created in homage to Populous, Reprisal lets you take control of a tribe, guiding them, building land and making them grow in number. Using special totem powers you can control nature itself unleashing its full fury on anyone that stands in your way. But be warned, other tribes may not take too kindly to your intentions and will put up a fight!
Desktop edition includes:
Enhanced full stereo chip tunes to nod along too, Unlock-able challenge islands, Offline local storage and Enhanced full screen display features! It also includes a full standalone PC installer and Mac App version. Includes 'The Making of Reprisal', a 38 page digital book charting the highs and lows of over a years development!
★★★★ Reprisal Universe Beta now included for Mac and PC! ★★★★
Reprisal now free to play
A year after it's release, Reprisal has now gone free to play!
Posted by reprisaluniverse on Jun 14th, 2013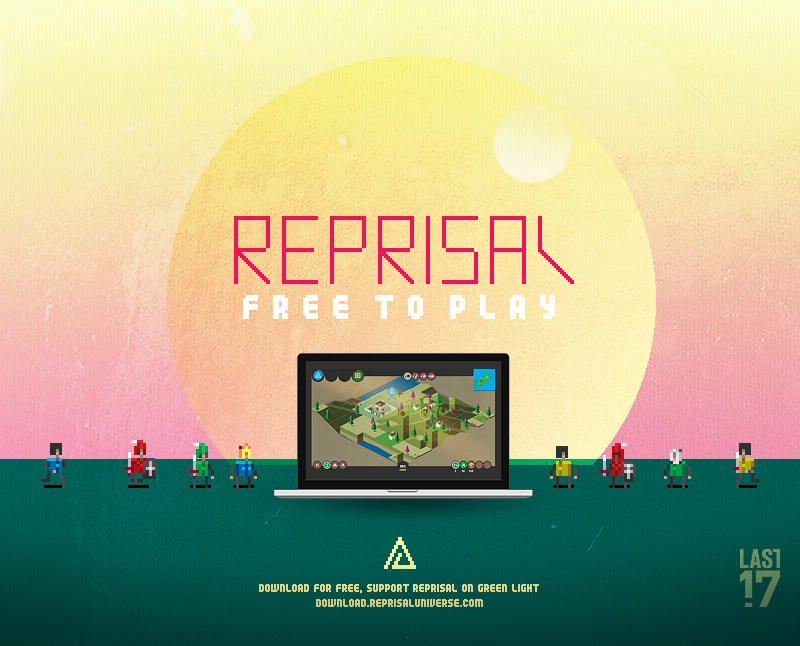 A year after it's release, Reprisal has now gone free to play ... forever and ever! If you've not got your hands on a copy of Reprisal's desktop edition, now you can for free. With over 30 campaign islands to conquer, un-lockable challenge islands and a Skirmish mode that creates random islands. Compete with up to 3 other CPU tribes across 5 terrain types.
Head on over to Download.reprisaluniverse.com to get your copy.
Thank you all for your help and support it's been amazing and we are super excited about our next release here at Last17. Battle Keep is going to be a single player and multi player (up to 4) dungeon romp ... with big bombs, epic explosions, procedural generated levels deep fried in more 16bit pixel goodness!
Oh and if you would like to see Reprisal distributed on Steam, please spend a moment to vote for it on it's Green Light page.
Thank you all! ♥
Here's the next line up ... BATTLE KEEEEEEEEPPPPPPPPPP!!!! BOOOOM!!!!!