A fully dynamic haunting-simulator. Experience the horrors of a haunting that's never the same twice. SEE THE SYSTEM REQUIREMENTS BEFORE PURCHASING. Test out the beta to make sure the game will work on your computer.
Features:
Free Content Updates: New scenarios, locations, characters, gameplay mechanics, and more!
Sleep System: Switch to static cameras to watch the house as you sleep.
Creepy Sound Design: Headphone users rejoice!
Controller Support: Xbox 360 controller and Mouse & Keyboard support.
Dynamic Hauntings: No haunting is ever the same thanks to the complex action-reaction and randomization system I made.
First-Person Camera: Much like Paranormal Activity or Blair Witch Project, the view is that of the camera.
Intricate Ghost Story: Uncover the mystery through journal entries.
Graphics: Unreal Engine 3 makes Paranormal look amazing, implementing many of the latest graphical advances. Push your computer (and sanity) to the limits!
Paranormal is now available on Desura! Vote for Paranormal on Steam GREENLIGHT! BETA 9.3 is available NOW!
Posted by MattCohen on Sep 22nd, 2012
BETA 9.3 IS NOW AVAILABLE ON DESURA!
9.3 fixes a ton of issues found in BETA 9.2 and also adds some content. College has me very busy, but I'm always making time for game development. I'm beginning to add light switches throughout the house. I'll probably add more functionality to them in the future (seeing things only visible when the lights are off, etc.). See the changelog below for more details.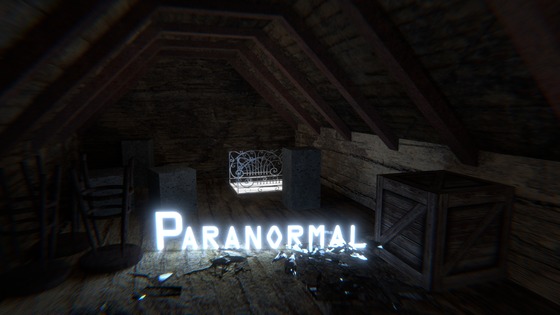 Changelog: 
Updated system requirements. 
Improved Tiered-Haunting system.
Improved materials.
Improved menus.
New intro cutscene.
Added light switches.
Replaced placeholder wall guy with Manny (mannequin
carving).
Fixed misplaced note reading.
Fixed broken rose petals.
Fixed safe opening animation problem.
Began working on replacing TONS of high-poly models with
more detailed and optimized models.
TRAILER CONTEST:
PRIZE:
A free copy of Paranormal, a place in the game's credits, and $50 USD.
RULES:
You can't use footage from YouTube videos, Let's Play videos, or trailers already released for the game. The music you use has to be legal, no licensed music allowed. It needs to be royalty free.
HOW TO ENTER:
Post the trailer you made to Paranormal's Facebook page.
Contest ends October 5th!

PARANORMAL IS SET TO BE FULLY RELEASED OCTOBER 19