How long can you survive the post-apocalyptic wastelands of NEO Scavenger? In the near-future, supernatural activity and human warfare have fragmented mankind into pockets of civilization struggling to survive in wild and dangerous lands. You awaken alone in an abandoned facility with no food nor water, and only a hospital gown and some mysterious items as clues to your identity.
NEO Scavenger is a game where you must survive in the wasteland long enough to figure out who you are. Each turn you must decide where to go, how to scavenge for supplies, and how to deal with anything and anyone you encounter. And with each passing minute, the pit in your stomach grows, your dehydration worsens, your muscles tire, and your body temperature drops in the cold autumn air. Choose your starting abilities carefully, because they and your wit are the only tools you have in the apocalypse!
Obtaining Your Steam Key
Desura customers are entitled to a free Steam key. If you'd like to obtain the Steam key assigned to you, please follow these instructions. Thanks!
New Beta and Demo Builds: Encounters, Monsters, and Combat Tweak
I've just finished uploading new beta build 0.967b and demo build 0.967d. The updates include new monsters, combat retreat changes, and several bug fixes. The beta also includes new encounter content.
Posted by dcfedor on Apr 3rd, 2013
Updates to Both Beta and Demo
Both the beta and demo have the following updates:
Added enfield horror creature to game.
Added melonhead creature to game.
Changed battle retreat/fall back maneuvers to increase range from all opponents, not just current target.
Changed athletic "sprint away" battle move to move 3-4 spaces, instead of 2-3.
Fixed a bug that allowed player to take items from store even if they couldn't afford them, using item swapping.
Fixed a bug that caused wounds and bandages to become aligned/zoomed incorrectly when changing resolutions.
Fixed a bug that caused crafting UI arrows to look wrong after changing resolution.
Fixed 2400x1350 button text on title screen (was showing "1600x900").
Fixed a bug in context->empty which caused removed item to retain old slot info.
Removed unnecessary images, reducing file size.
The new monsters were hinted at last week, and each have some unique tactics and properties. Both are encountered in the wild, so beware some new faces in the neighborhood :)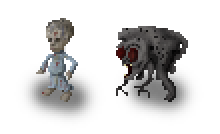 The biggest change here is the combat retreat/fall back moves. Previously, running from a group of enemies involved running from the current target, switching targets, running from the new target, switching back, etc. Usually, resulting in failure and frustration.
Now, retreat works against all opponents simultaneously (like Athletic's "sprint away from the fray" used to). This way, retreating from a group in battle should be challenging, but far from impossible.
Exclusive Beta Updates
The beta has the following additional updates:
Added new "Allegan" encounter.
Added two new unique items to game.
Changed trio of major encounters to each happen in all games, instead of only one per game.
Changed trio of major encounters to be revisitable.
Changed some encounters so player action required to continue, instead of continuing by default.
"Allegan" is the newest major encounter to be added to the game. Three other major encounters have been upgraded from occasional status to always available, so each game can now see all three. And changes have been made such that those locations persist after the initial encounters, to help lend an air of permanence to the map.
Some of this new content is a bit experimental, so let me know if it breaks or seems to misbehave. Especially the new monsters and retreat behavior.
Hope everyone enjoys the new content!