Petabyte Progress: Part Prescriptions
Progress on Megabyte Punch this week includes a reworked collection interface showing information of parts such as ELECTROCRUSH DYNA-ARM.
Posted by DionReptile on Jun 1st, 2012
A way to know what the ability of a part actually does was requested quite a lot and we couldn't help but agree. So the last week I've been reworking the collection interface.
Next to a short explanation of the ability, I took the opportunity to show a lot more too. Such as part names and part description/flavor text. You can also see how many parts you've collected of the total by looking at the page number (we don't have a hundred yet, but we're getting pretty close!). You can rotate the part around and once you've made a choice you can add it right to your inventory.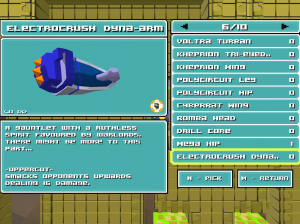 Note that the part abilities are not final yet. Some are under or over powered and abilities might switch around. All in all, I like the new interface. It gives more fun and purpose to collecting. Its informative and it even gives us the opportunity to expand on the game's universe with all its parts, factions and legends.
Remember you can support us and try the latest alpha by pre-ordering the game!