If you like total freedom in the way you conquer the enemy this is the ultimate war game for you. Build freeform constructions as a medieval Builder, fight in sword duels as a Knight or snipe with your bow as an Archer. KAG blends the cooperative aspects of Lost Vikings, mashes them with the full destructibility of Worms and the visual style and action of Metal Slug, brought to you by the creators of Soldat.
* Build defenses with freeform building
* Destroy the enemy castles with physics and explosives
* Freedom to move by land, water, dig tunnels or fly in the air
* Use the environment to burn or drown enemies
* Interact with a living animal and plant world
* Drive siege machines with your teammates
* Fight with 32 unpredictable humans in multiplayer
* Freely change to one of 3 distinct classes
* Singleplayer, cooperative and competitive game modes
* Customize with 60+ unique heads
* Create your own adventure with community created mods & scripts
Zombie Fortress Single-player released
1. Build a Fort 2. Watch out for Zombies!!! These are the only instructions you need. You've been waiting for this latest KAG update for a long time. Now it is time to play it!
Posted by Michal.Marcinkowski on Mar 2nd, 2012
ZOMBIE FORTRESS SINGLE-PLAYER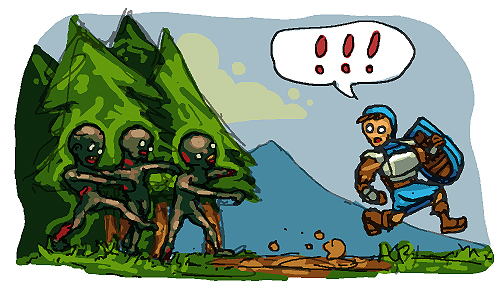 INSTRUCTIONS:
1. BUILD A FORT
2. WATCH OUT FOR ZOMBIES
In a land far far away... evil has spawned from the *deep*... yeah you know what this is...
If you've paid the 10 bucks it costs you are ready to play it (if not click here).
Launch the game right now and it will auto-update.
Run KAG and login at least once, open the Solo menu and select "Zombie Fortress".
Wait for the night to come and be prepared for all hell to break loose...
We've been holding this release for a long time, trying to iron out everything. It's still not all ironed out and IT'S NOT FINISHED, we have a whole bunch of stuff waiting to be done more in this mode. But it's gotten to the stage where we just really want to show it to you guys.
Before you get too exited, zombies multiplayer doesn't work yet. Trust me, we've tried to get this done and dusted (12-16 hour days for the last month) but it's going to take a while longer. Since we'll be off at GDC in San Francisco next week we've decided to give you guys access to the single player zombie fortress mode.Since you can't play with friends yet, we've added something called Party Mode to zombies - you can recruit migrants, control them and give them basic orders. We'll be expanding your control over party members in coming updates (go-to, gather resources orders, re-stock etc.).
Here's how the basics work in-game:
Note that you need quarters for migrants to arrive and be recruitable!

Basically hold down [R] for a Party Menu or tap it quickly to switch between party members. 




CTF / TDM CHANGES:




This patch, besides zombies, introduces a ton of other things we added for the free version of the game in CTF. So much has changed that we haven't kept a proper change-log. Here are some highlights:
Lighting - castle interiors and caves are dark. You can hide in them. 
Lanterns in full version (will work fully next patch).
Workshops have no castle background. This means they can fit anywhere and don't cost stone.
Team bubbles stop on the edge of the screen so you can see your out-of-screen teammates crying for help
Bomb has changed - doesn't have the bomber-man effect - tweaked bomb jumping
Many collision, networking, exploit and security fixes
Swordfight is now Deathmatch - a mini-tutorial for training to fight with Knight and Archer
AI that can fend for itself! (No more derpy Henries)
Randomly generated dungeons and castles (fully moddable, get on it server owners)
Rubble from collapsed castles and in ruins
Tapping function keys [E] [Q] [V] to perform certain actions is now possible again, most importantly tapping [E] on the tent to quickly swap classes, and F to swap tiles. Long time players might appreciate the return of the first one especially.
Player names on cursor show only when close and in full light (to allow hiding)

Due to some security issues, localhosting wont work, and those on shared IPs wont be able to play at the same time. This really bugs us and we'll be fixing it ASAP, but it's better than the alternative (a nice big security hole).We're keen to see what exploits work (so we can sort out something to deal with them) and what ones dont (so we can laugh at the people who tried them) so we'll be watching the forums keenly.
We're not raising the price until the multiplayer is in to ensure noone feels cheated; that means KAG is still $9.99 for a limited time. To buy the Full Version of KAG (takes just 5 minutes;) ) go here.   
Very big thanks to KAG admins, guards and testers! It wouldn't be possible without you.
Have fun!
Geti + MM