A multiplayer deathmatch game played with up to 32 players. Build castles and wage war on the enemy team as a Knight, Archer or Builder in a fully destructible medieval world. It blends the best cooperative aspects of Lost Vikings, mashes them with Worms, with the visual style of Metal Slug, brought to you by the creators of Soldat.
Features:
* 32 players realtime multiplayer
* State of the art retro pixel graphics
* 2 teams
* 3 classes: builder, knight and archer
* Drivable catapults and battleships
* Bison taming
* Collapsible physics based on construction support
* Medieval sword duels
* Shark riding
* Building castles and traps
* Technology research and trading
* Dynamic 2D water and fire
* Wilhelm's scream
* Available on 3 platforms (Windows, OSX, Linux)
* Full access to game's scripts and modding
IndieDB Indie of the Year awards! Vote for KAG!
KAG needs your votes to win indie of the year 2011! Lend us 30 seconds of your time, click the button, get karma!
Posted by MaxCahill on Dec 2nd, 2011
Oh god so many buttons to press I know, but we're really hoping for your support on this one. Be sure to check out the other indie titles vying for the top-100 (after you've voted for KAG of course ;)
---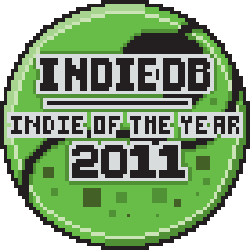 CLICK ME
---
(scroll down to the area with the nice trees after clicking)
Geti