Kill Fun Yeah is an online 2D platform shooter.
Murder and capture your way to the top, using an ever increasing arsenal of silly weaponry and items, the powers of deflect, attract and freeze, as well as various powerups.
Make your own maps, using custom made tilesets and background sprites and create your own custom player skin to make you stand out on the battlefield.
The game is free to try for 3 hours with a few limitations, which, along with the time limit, are removed upon purchasing the full version.
Kill Fun Yeah Alpha 0.33 has been released. No more demo servers!
Posted by JLar on Aug 16th, 2012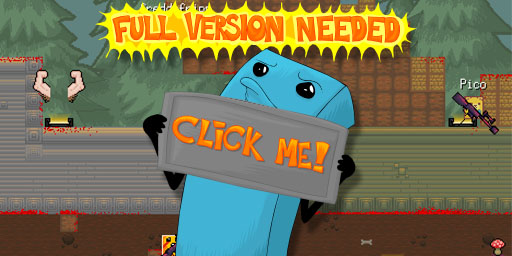 Some of what is new in this release:
Changed so that game servers can always offer all avaliable content (no more "demo servers") and added a free play limit of 3 hours.
Changed so that players won't have to wait for pinging to finish before entering the player stats screen (will abort the pinging procedure).
Fixed so that maps that don't contain appropriate player spawners can not be added to the map list of game servers.