I Shall Remain is an Action and Survival RPG Game. Having the story placed in an alternate future at the end of year 1948, when Nazis managed to release a deadly virus over the United States right at the end of the Second World War, allowed us proper ambiance and background for an interesting game deployment. The game is the story of two brothers and their intricate relation with the apocalyptic world rising in the leftovers of the Z0M81 Pandemic ravage.
ISR - Screenshot and video leak with play guide for the upcoming Alpha release
ISR - Screenshot and video leak with play guide for the upcoming Alpha release. Hello Desura! Jake Way here. In this article we leak screenshots from the I Shall Remain Alpha release we have planned for next week along with some instructions on how to play the game when you snag your copy.
Posted by marine_jake on Jun 29th, 2012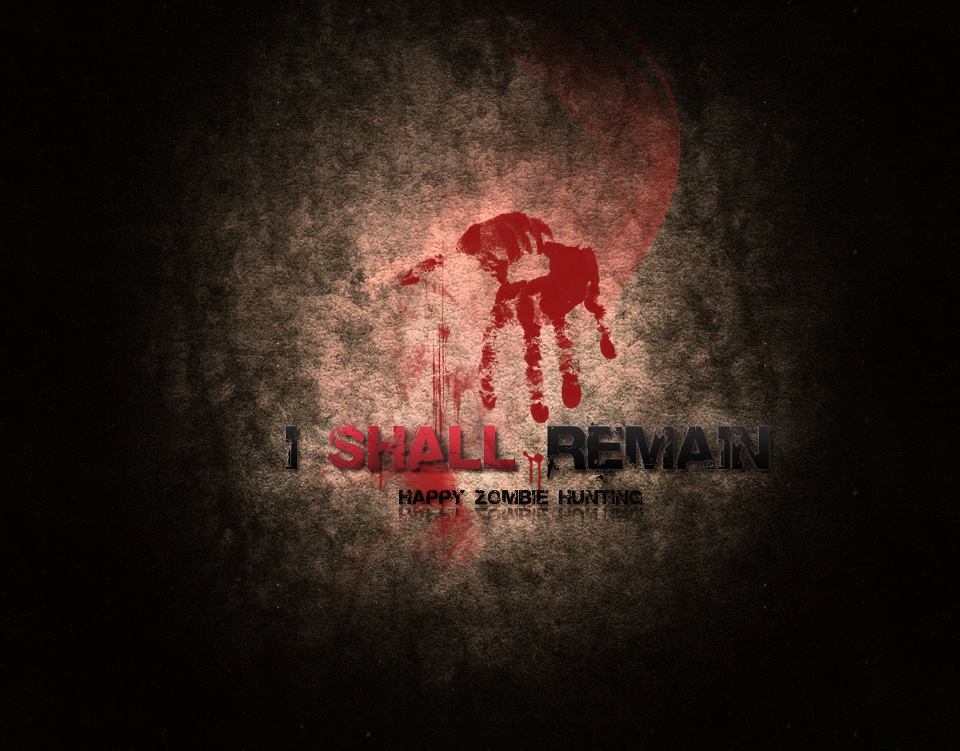 ISR - Screenshot and video leak from next week's Alpha release with a run-down on the controls
June 28, 2012

Hello Desura! We are ECSTATIC! We finally have enough content available for an alpha release. We will be submitting it to Desura on Monday, July 2, 2012 and it will be available as soon as it's approved by the Desura staff.
The alpha will have our original prolouge with all of the bug fixes and additional content we've developed since our last release and a lengthy survival map that is an absolute scream. After we release this we will add on a large chunk of the campaign map as an update. Because the game is still in alpha, the campaign map wont be playable all the way through but it's still great to explore the map, the various parts of the city, the railway station, the various safe haven and survivor communities. Lots of game play!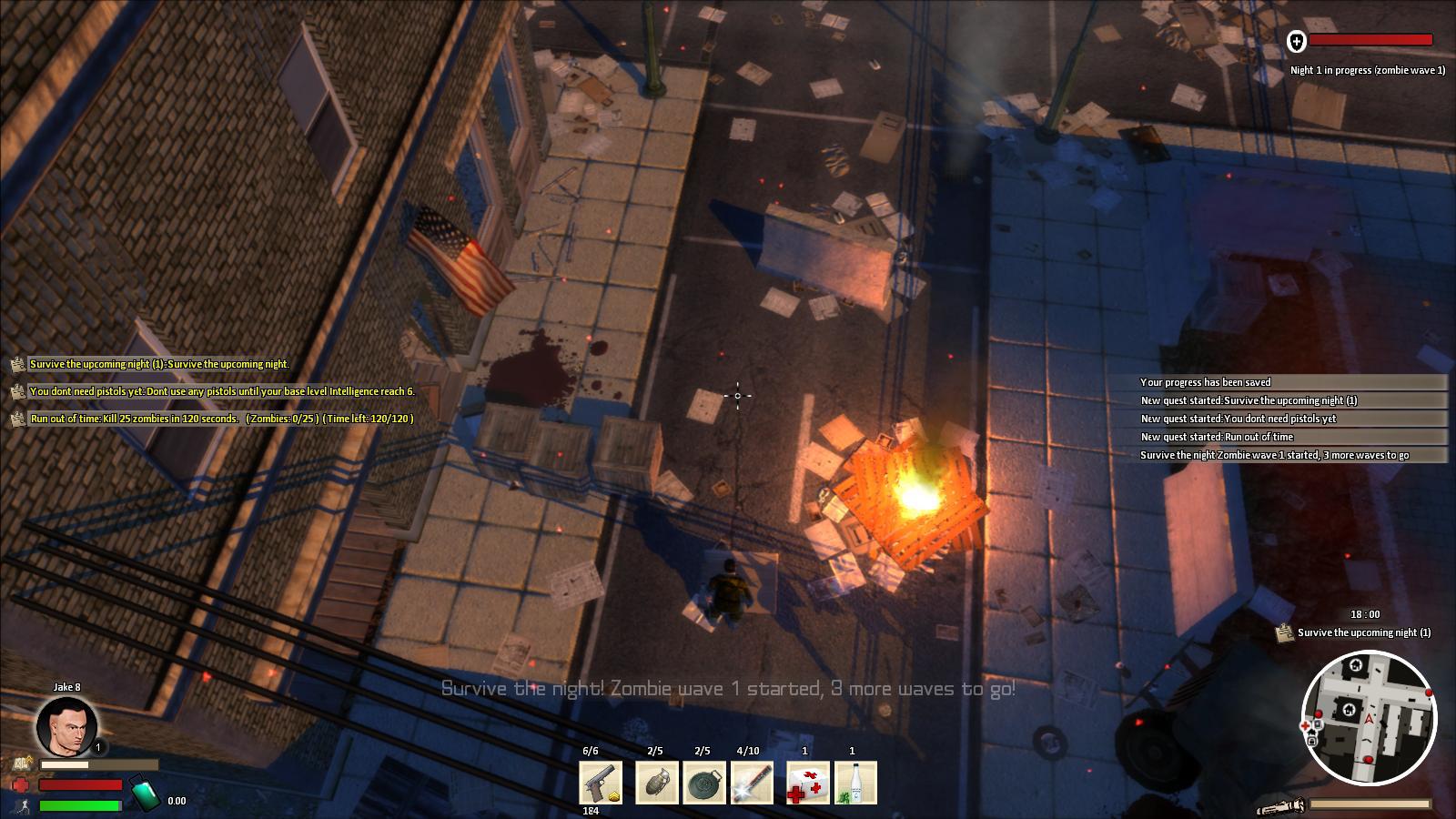 The survival map challenges you to survive ten nights through an infected area of the city. Use crates to build defend-able walls. Collect blood samples to create serum and purchase weapons, ammunition and pay to recruit teammates. Always stay moving, ensure you have a source of light, and manage your spending! There are also a number of side quests you can challenge yourself with that give various rewards like skill bonuses, serum, weapons or other items.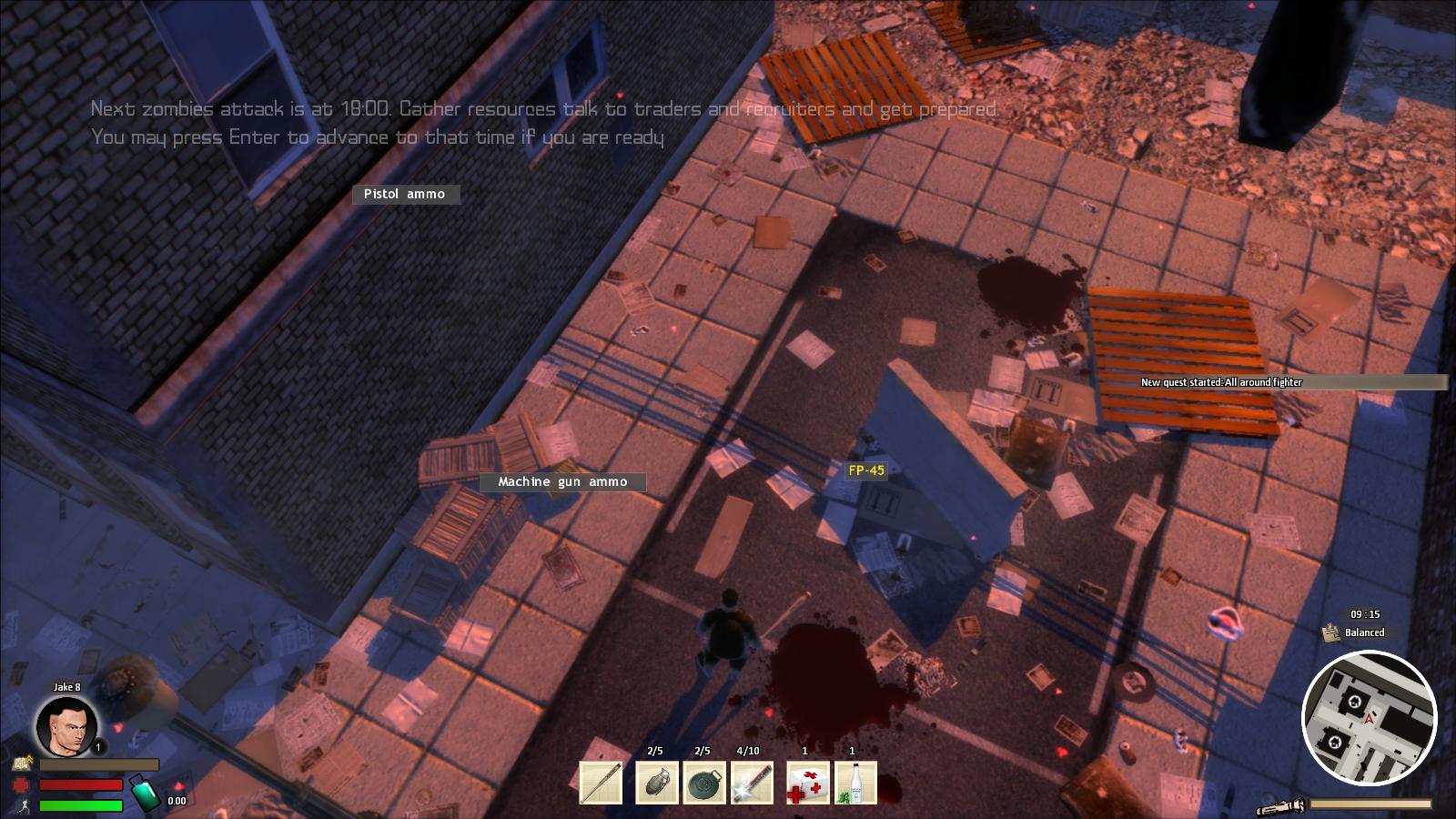 When you begin, you'll have very little. Immediately start to explore the map. The infected don't attack until 1800. That gives you time to start scavenging. Use the ALT key to useable items that are on the ground.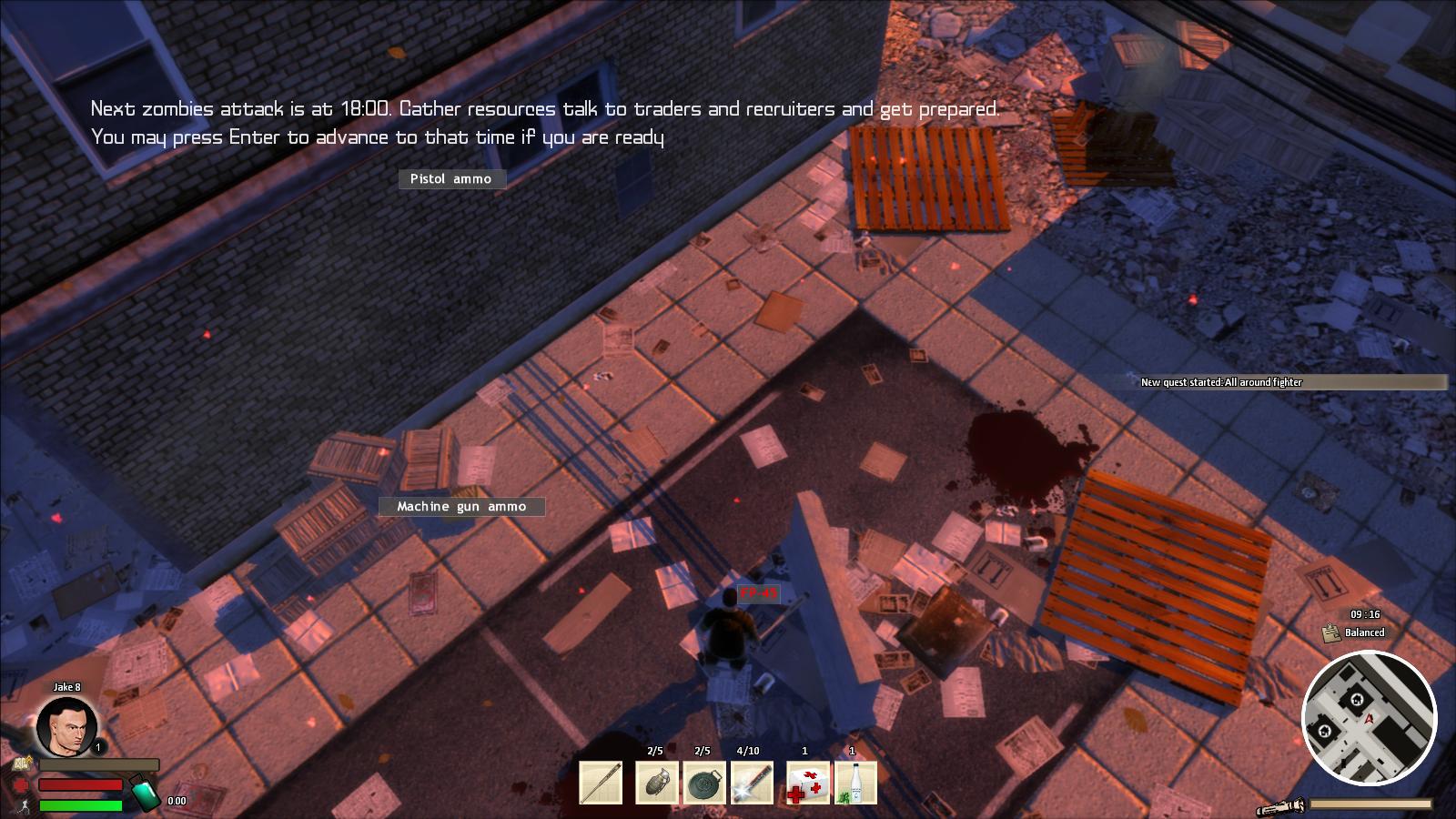 To pick up an item you've found, approach it and when it turns RED you may right-click and pick it up and place it in your inventory (below). New weapons you find will automatically become active unless you disengage the auto-equip option in the inventory. Note, if you forget the shortcut keys, you can access all other game windows like quests and character info from the inventory window by clicking their associated icons at the bottom of the inventory window.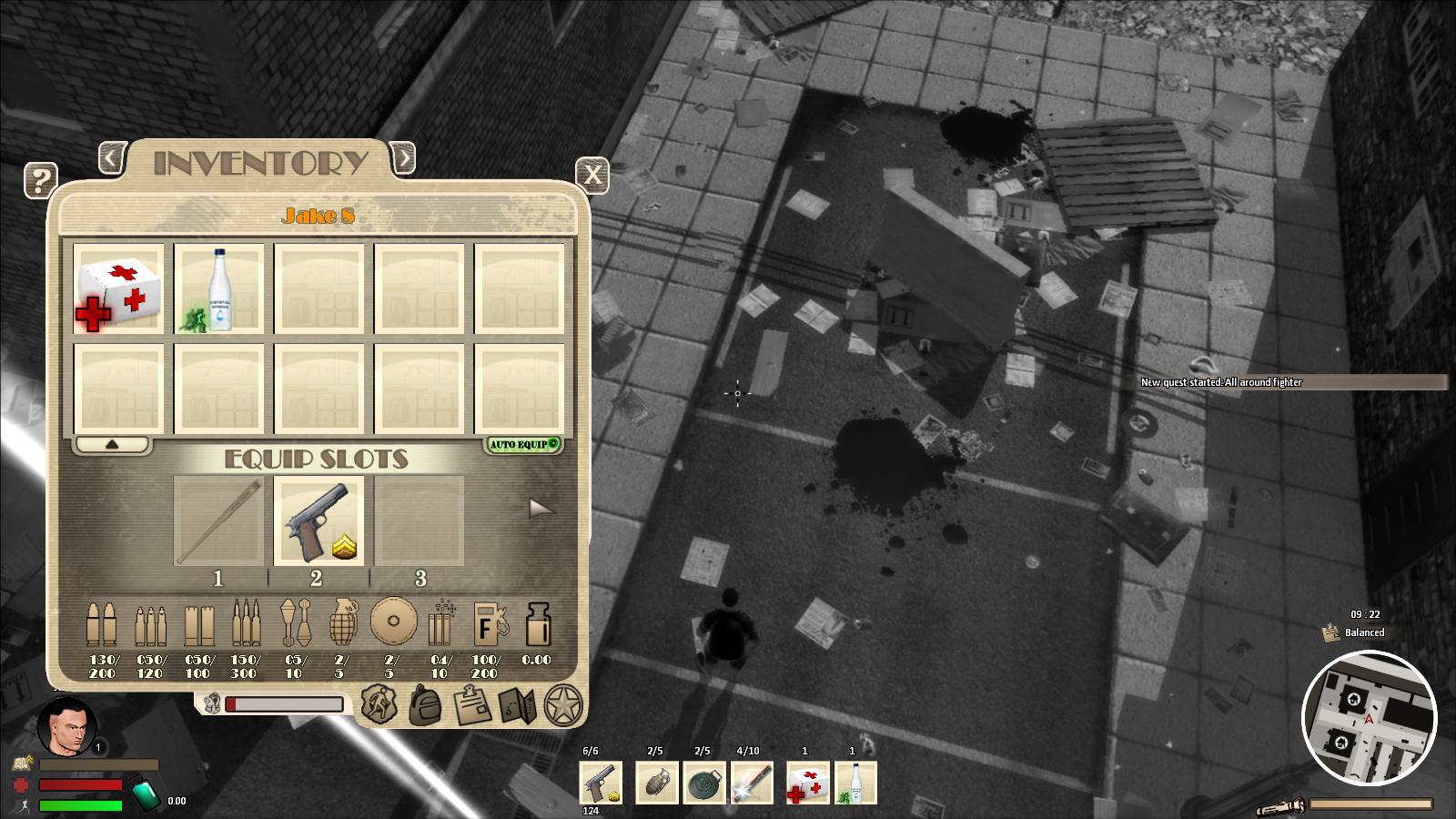 Notice the Marine Sergeant's chevrons on the pistol. This indicates that it's a special weapon. I would recommend selling this and using the serum earned in its sale to recruit a teammate. Teammates are priceless. Fancy pistols are not.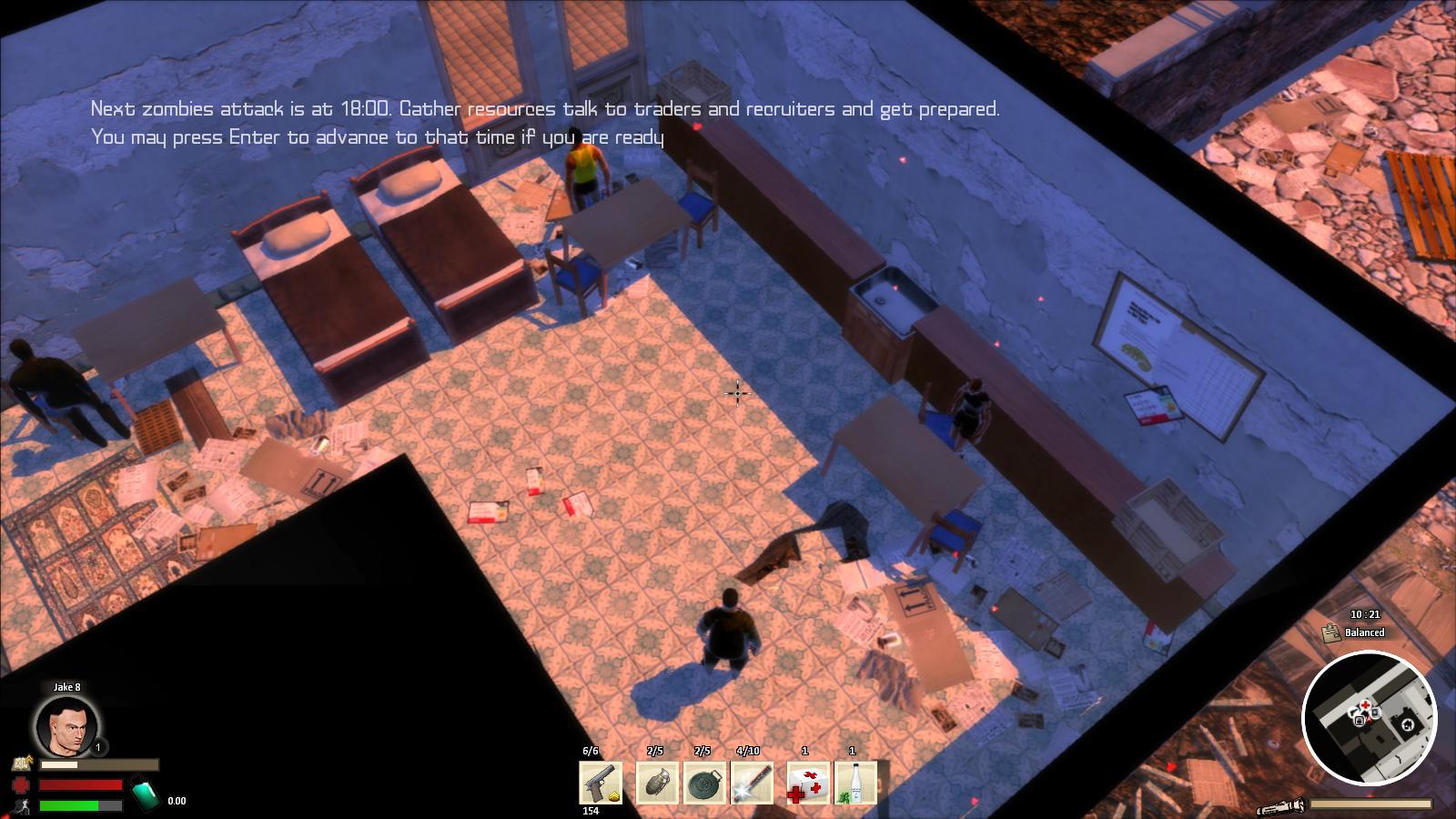 Somewhere on the map is a small safe house. Here you can purchase weapons, books (read them and boost your character's skills) and recruit. All of this is very expensive, so manage your money well!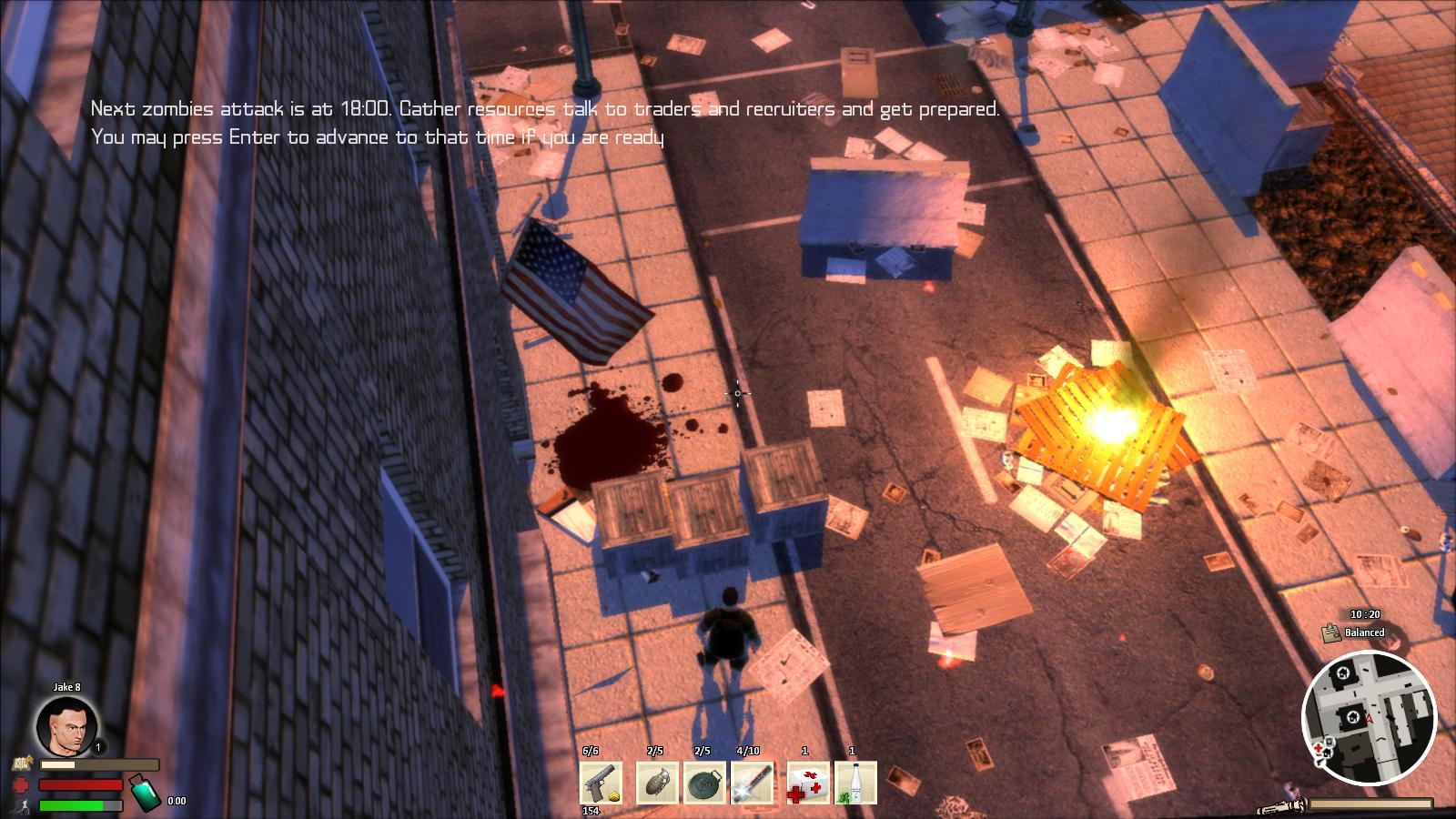 Crates are very important to know how to use. When you find one, approach it and press space bar. Your character will pick it up. By pressing space bar again, he will drop it wherever you choose. Use this method to create physical barriers that will slow down the infected. Below is a video showing how to create an effective barrier.
Ensure you always have a source of light! It gets PITCH BLACK at night. Use either flares (press Z to throw one) or your flashlight (press F to turn it on). Remember, your flashlight has a battery life as represented by the small life bar below the mini-map on the bottom right corner of the screen. Batteries are expensive, so use them only when most needed.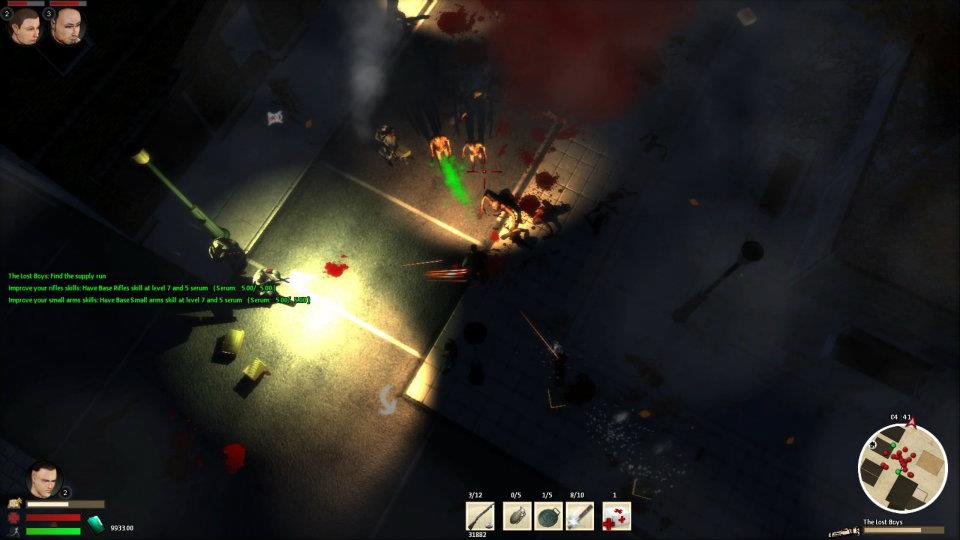 Teammates are your most important asset. Ensure you watch their health and quicky press SHIFT+Q to apply a health pack to your weakest teammate to prevent him from becoming KIA in the zombie wasteland. Also, don't throw grenades (press G) near them. We've now made it so friendlies do not set off mines (press X to lay a mine) so that headache has gone away since our last release.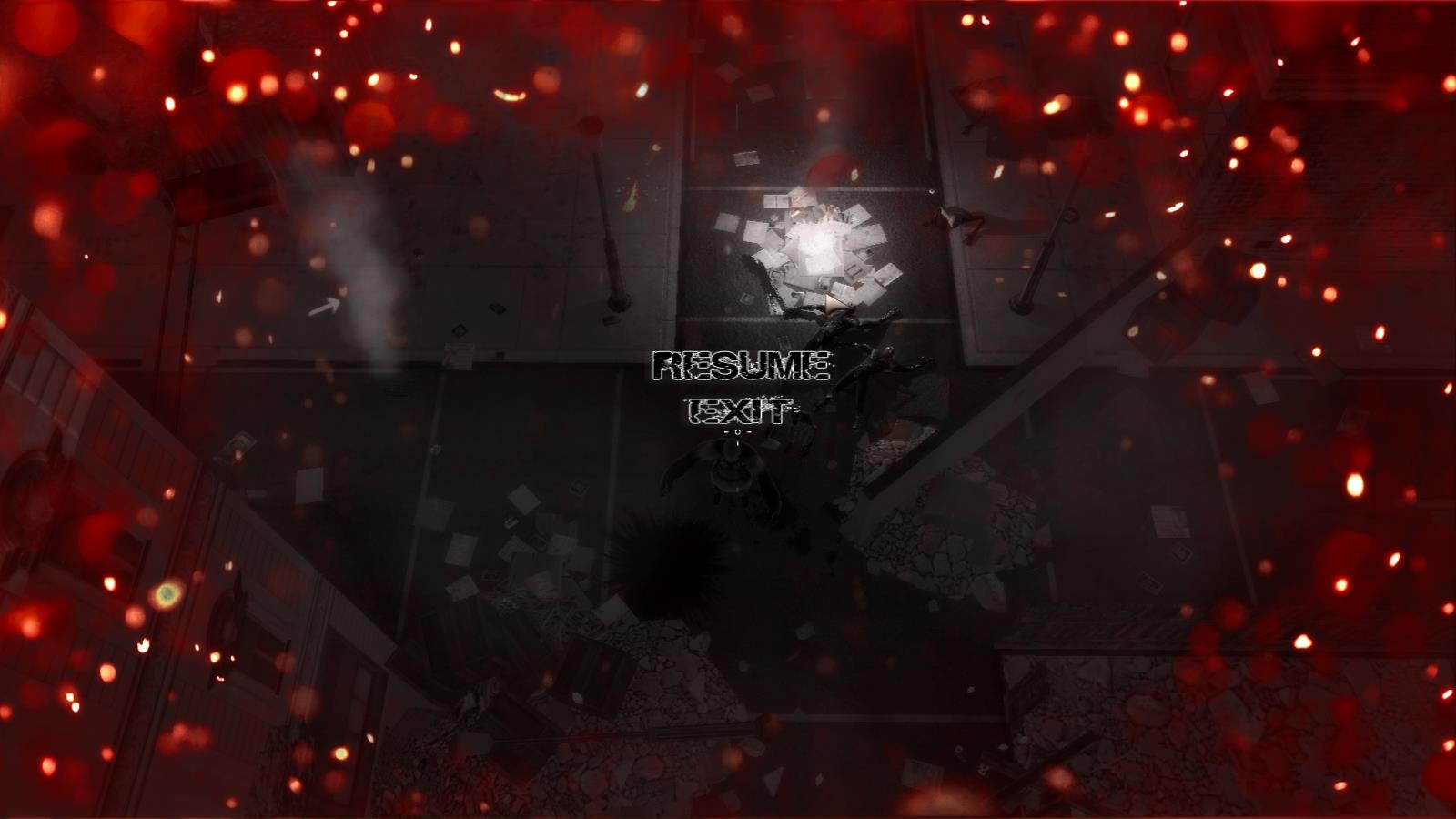 When your character dies on the survival map, you can either start over to day one, or revert back to the previous morning, readjust your combat posture that day and then attempt to fight through the night you were killed in.
Thank you so much Desura for your patience and unwavering support. We are humbled by what you've done for us and can't wait to share what we have next week. Post a comment here, PM me or post a comment on our game's wall if you have any questions, concerns, comments. We watch our Desura threads like hawks so you'll have an answer very quickly.
Yours,
Jake Way
Producer, I Shall Remain
Like us on: Facebook.com
Watch our for our video updates on: Youtube.com