Great Permutator is a puzzle. Hard and tricky. One in which you will have to build a complex system of conveyors and various devices so that the colored boxes can travel across the factory and arrive at right places and in right order. If you are into clever engineering puzzles like LightBot, Manufactoria and SpaceChem, this game is for you.
Features:
- 50 puzzles (+15 bonus puzzles)
- 10+ types of action blocks
- 16 not-so-easy achievements
- Global score leaderboard
- Nice pixel art graphics and cool soundtrack
- Level editor
- Sharing levels via Internet *
* planned for the near future
April Fools Day Sale, Soundtrack and other news
30% off for a week. It is not a joke! Also you can listen Great Permutator OST on Bandcamp.
Posted by ripatti on Mar 31st, 2013
Now you can feel yourself a fool by a bit lower price!
(I'm kidding, of course)
Recently Great Permutator OST released on Bandcamp!
You can listen it here and purchase it for any price what you want.
Or just click on the cover of album: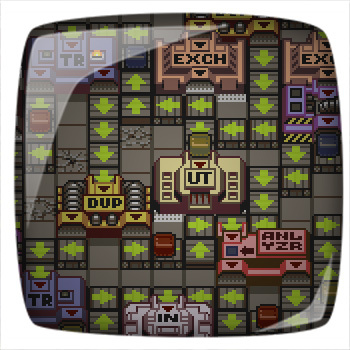 Also I started porting the game for Linux and Mac.
I hope these ports will be done to end of this month.