"Death And The Fly" - a platform - 2d puzzle game where the player has the ability to control the two species. One of them is death, and the second - the fly. Where such a combination? - Perhaps you will come to mind ... Well. Interested, find out in due course. It is not our duty to interfere in the personal lives of these two, and besides, let's be honest. Who wanted to have them closer to a deal?
Death & the Fly Update including music track, some new skills and minor fixes.
Posted by PIGravity on Feb 25th, 2011
So far, so good. Development going well. We have already added three new skills into a game:
Map: As you see on the screen shot this skill is timed.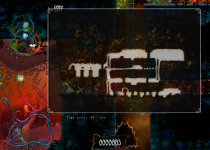 An Arrow pointing an exit from the level. Of course skill is timed.
Skip level ( We hardly discussed about this, but since we've heard from some number of people that this skill IS A MUST regarding game difficulty, we have decided to add it finally ) - say thanks to mr. Santa xD
Also. Now skills can be found in game - not only bought in shop. Some minor fixes like: Added better drop for fortune cookies, some animation fixes, and some net tests regarding high score system.
So.. newer version you can grab here ( at download section ) . New skills and music track added. This time its an installer version.
If you like our game, remember you can still pre order it here, before release and help us a little.