Caveman Craig 2 is a unique survival/RTS game featuring Craig, a tribal leader. It's your job to lead Craig as he builds up his clan and conquers the 4 tribes of boggdrop. Set in a prehistoric world, you decide the fate of man as you hunt, gather and prepare your way to victory. Teach your cavemen new skills and watch as they contribute to the survival of your people. Gather your brave warriors to fend off a dino-frenzy, or use special skills to outsmart the rival tribes. It's your call in this hilarious caveman classic!
5 Year Anniversary of Caveman Craig
We are celebrating 5 years since the release of the original Caveman Craig with a number of exciting announcements! Caveman Craig 2 is now just $6.99 from Desura (30% off), and you can download the special edition of Caveman Craig 1 from our website for FREE (previously $4.99). We have also announced a release date and feature list for our FREE DLC for Caveman Craig 2, "The Battle at Dudu Forest".
Posted by RhysAndrews on Apr 21st, 2013
On the 20th of April, 2008, we released Caveman Craig on YoYo Games as an entry into their "ancient civilisations" game design competition. This week marks the 5th anniversary since the original release, and we want to celebrate with a few exciting announcements!
Caveman Craig 2 is now just $6.99!
We are reducing the prize of Caveman Craig 2 on Desura to $6.99. That's 30% off! Grab it today!
Get from Desura (PC)
Caveman Craig Special Edition is now FREE!
The special edition of Caveman Craig 1 is now FREE to download from cavemancraig.com.
Direct download link is here (virus-free, no installation just extract, for PC).
Release Date & feature list for Caveman Craig 2: The Battle at Dudu Forest, announced!
We will be releasing the FREE "Battle at DuDu Forest" DLC for Caveman Craig 2 on the 12th of May, 2013, for all existing and new purchasers of Caveman Craig 2. The DLC is a brand new conquest level set in a dense and lively forest, featuring.
Beautiful new animated scene
A new dinosaur with a unique challenge to unlock secrets!
A new enemy caveman that you can defeat and unlock for play in classic mode
Mushrooms?
And more! But we don't want to spoil it for you.


We have listened to all your feedback and will be putting all of this in consideration for the DLC. To that end, The Battle at Dudu Forest will also provide some tweaks and updates to the main game, including..

Shake off dinosaurs by pressing A and D in rhythm instead of mashing spacebar
Throw rocks/spears using the W key for easier throwing
Sort the caveman overview list by birth date, caveman type, following status, skill level, health, or energy, for easier caveman management.
And finally.. a 'behind the scenes' pack for the die hard fans!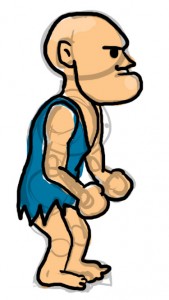 Looking back on the past 5 years, it's been interesting to see how our ideas have developed. So we put together a bunch of old concept art, sketches, videos, and even documents with notes on the development of Caveman Craig 2 (and some for Caveman Craig 1!), free for you to explore.
Direct download link for the "Behind the Scenes" pack is here.