Break Blocks is a break dancing, action puzzle game which fuses the beat-based mechanics of games like Guitar Hero and Dance Dance Revolution with a color-based block puzzle. You play as a young break dancer who must defeat a cast of 13 of the world's most notorious dancers by building colored blocks and clearing them to perform dance moves. Blocks are built in time with the beat and then placed on the circular dance floor. The object is not only to group primary colors (red, blue, and yellow) together, but also to connect them by using secondary colors (purple, orange and green) as a bridge to clear more blocks, and unleash more intense break dance moves!
Greater Good Games is a two man game studio whose creators' dream is to use their passion for making games to help others. The company was founded with a commitment to charity. Find out more about our charitable mission on the Finances section of our website.
Break Blocks Touch! is now 50% off at the App Store
Break Blocks Touch! is now on sale for $0.99 at the App Store. This colorful rhythm-puzzler will have you tapping along to the beat in no time flat!
Posted by Xienen on Aug 13th, 2012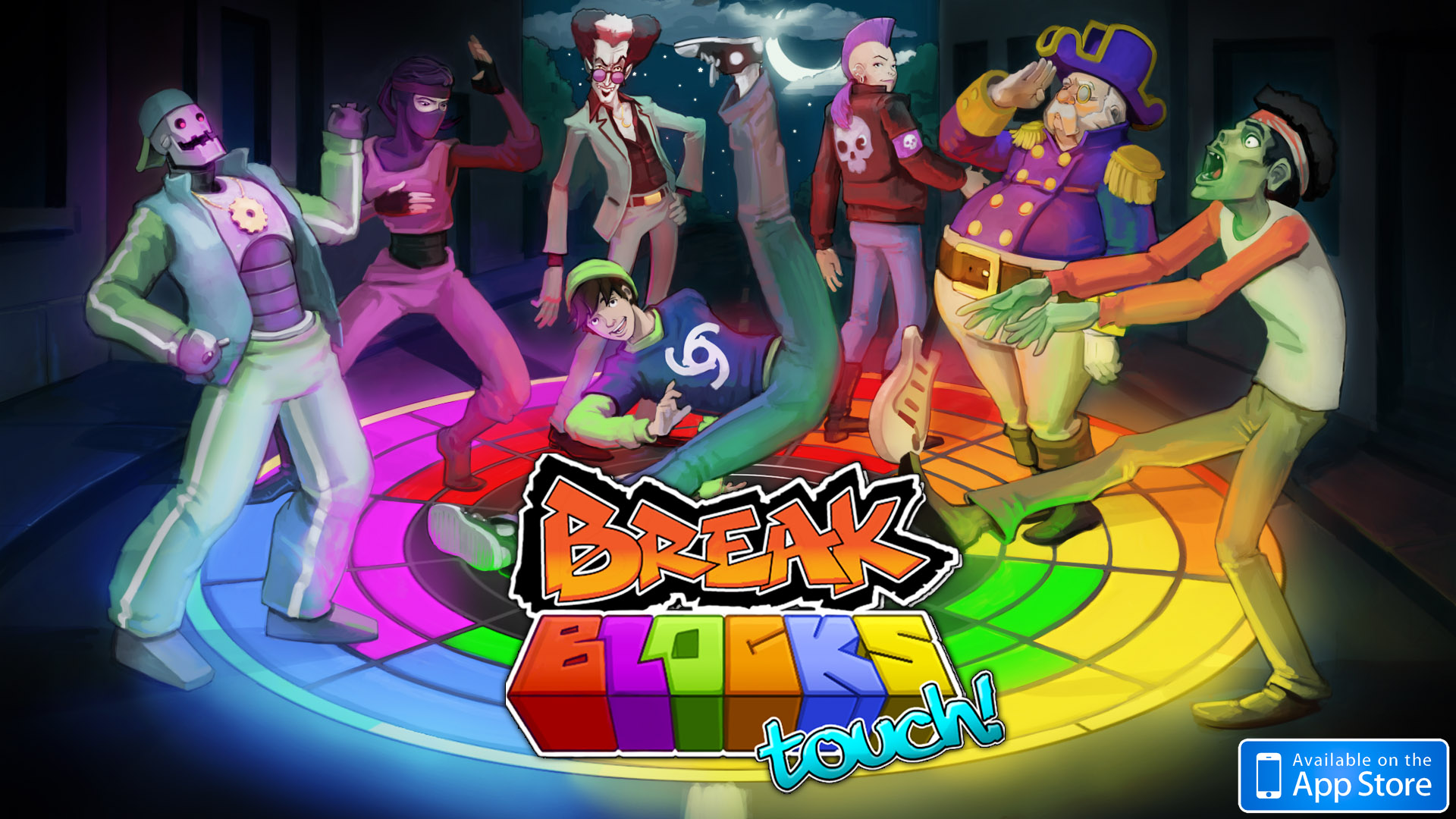 Break Blocks Touch! is now on sale for 50% off at the App Store.
For those of you who aren't familiar with Break Blocks, our game is a color-based rhythm puzzle game. You play as a B-Boi on a quest to become the best break dancer known to Man. In order to defeat opponents such as Hip-Hop Zombies, Disco Vampires, and Break Dancing Robots, you unleash crazy power moves on the dance floor.  To do so, you build colored blocks by tapping along the the rhythm of each song, and then place them on the gameboard. Secondary colors (like purple) are built by pressing the two component primary colors (red and blue in this case) at once. Secondary colors create a chain when touching their primary components allowing for massive clears. The goal is to clear as many blocks as possible at once so that your moves have the most effect.
In our PC/Mac release, there were some inherent limitations to our control set-up that created a steeper learning curve. Since there are no red, blue and yellow buttons on the standard keyboard, we mapped these to arrow keys. Break Blocks Touch! avoids that complication entirely which is one of the reasons we're so excited about this version. You simply tap the color button as it appears on the screen, and viola! Magic!
We've found this version to be extremely fun, so please check it out! If you don't want to throw us a buck, you can always check out our free demo version. Also, PC and Mac versions of the game are still available through Desura and our website.
Cheers,
Noah Wood