The Creators Of AI War Bring You...
A 2D sidescroller without a linear path. An action game with tactical combat and citybuilding. An adventure game that lets you free-roam a vast, procedurally-generated world. A Valley Without Wind defies genre stereotypes. Unlike other procedurally-generated games, you also get a logical progression in difficulty, plus helpful tips and checklists to guide your travels (should you need them).
Choose for yourself how to prepare to face the vastly stronger Overlord. Complete a variety of missions to earn new spells, and/or roam the wilds to uncover secret missions and stashes of magical crafting loot. Customize your characters with unique combinations of enchants and spells that change how you move, jump, and fight. Or rescue people and bring them back to your settlement so that they can then be sent on dispatch missions; you don't have to carry the burden of your fledgling civilization alone!
You choose how to play, and the world adapts around you.
AVWW 1.1, IndieCade E3 Showcase Coverage
We share why our time at E3 was well spent, as well as what people are saying about 1.1.
Posted by cupogoodness on Jun 24th, 2012

A Valley Without Wind 1.1 is officially out (along with anofficial hotfix) and we're happy to hear some really great reactions from players and press, including Tom Chick of Quarter to Three weighing in on what he's enjoying about the new update.

We've built up quite a long list of links over the past couple weeks as our game saw some great coverage thanks to IndieCade's E3 showcase (Jessica Conditt of Joystiq surprised us with this awesome piece). It was a great group to be a part of, and I myself got to talk to a ton of cool industry folk—several of which checked out and seemed to really enjoy their time with our game.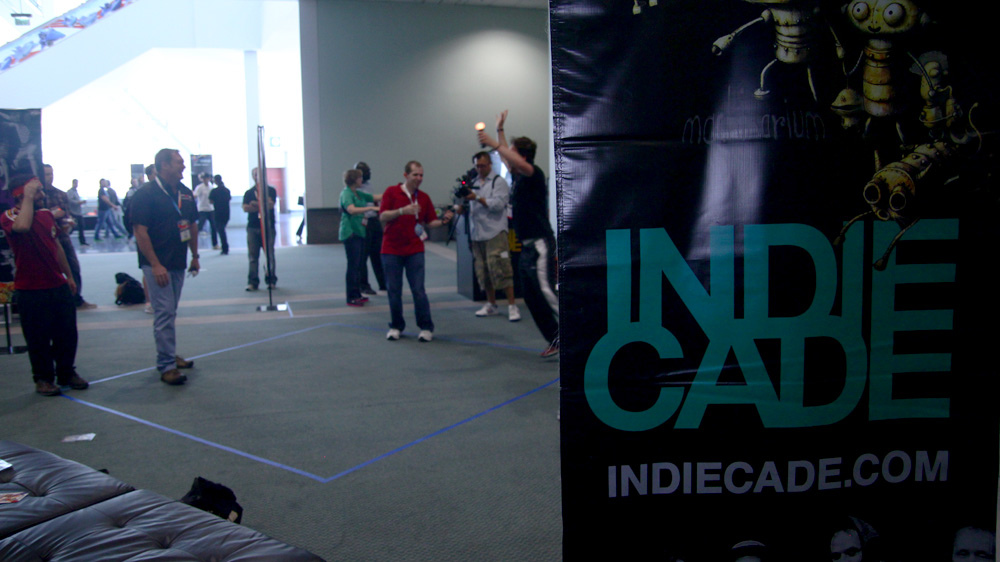 I also got to check out a ton of cool indie games right next to me. My favorite of which was Hokra by awesome developer/nice guy Ramiro Corbetta. I also had the pleasure of meeting veteran indie devsErin Robinson and Steve Swink, who we're showing off their new projects as well. Erin's working on a clever and fun puzzle platformer Gravity Ghost, and Steve really stole the show with his first person create/modify game Scale. 

The IndieCade showcase titles in general were excellent, if you want to check them out you can find the games listed here. With that, here's the aforementioned list of outlets talking about AVWW 1.1, IndieCade at E3 (some pieces our game is not directly mentioned but we still want to share), and various other press coverage:
Extra Credits: Games You Might Not Have Tried #4 (Video)
GameSpy: Watch Out for these Weird E3 Indie Games
G4TV: Indiecade Invades E3 - The Best of Indie Gaming in One Spot 
Gamer's Guide to Life: E3 2012 -- A Valley Without Wind Interview
Indie Game Magazine: IndieCade At E3 -- A Quick Look At All 20 Games On Show
Joystiq: Take a tour with us through IndieCade at E3
Turnstyle: IndieCade -- E3's Oasis and Scrying Pool, All in One
nFamous Gamers: IndieCade Brings Innovation And Fun To E3
Muslim Gamer: [PC Review] A Valley Without Wind
Game20: A Valley Without Wind Review (Greek)
EnternityGR: A Valley without Wind Video Video Review (Greek)
4 Player Podcast: Brad plays A Valley Without Wind on PC (Video)
Your Game Source Podcast: E3 2012 Podcast
Screw Attack: Indie Shack -- Lots and Lots of Metroidvania
Gamers Guide to Life: IGN, GameSpot, Eurogamer unjustly damage Arcen Game's latest title
Gamasutra: Dust in The Wind: An Analysis of A Valley Without Wind
Vaerydian: World Building (Dev Article)
Indie Game Magaine: 'A Valley Without Wind' An "Almost Different Game" With 1.1 Update
Blue's News: A Valley Without Wind Patch
DealSpwn: A Valley Without Wind Gets Massive Content Update
Dark Side of Gaming: A Valley Without Wind – Version 1.1 Is Now Available
Deihlanos: Let's Play A Valley Without Wind #2 -- Giant mecha thunder wasps and.... bats.
IZTheJack: A Valley Without Wind Part 10 - The First Rescue
MrSollkre: A valley without wind | Ep.1 | Okay!