99 Levels to Hell is a platform shooter with lots of guns, upgrades, magic, traps and monsters to kill.
99 Levels to Hell is a rogue-like-like, which means surviving is key and every time you play you get a random selection of levels to play.
When you complete 10 levels, the 10th being a boss-fight you unlock a door to the next dungeon.
Hidden in the darkness of the dungeons are shops, casinos and elevators. And if you search the dungeons carefully, you might find secret rooms that unlock more of the story, and free new adventurers, you can play as in your next game.
Minimum system requirements: Windows XP / Vista / 7 / 8, Intel Core i5 2410M 2.30Ghz processor, 4 GB RAM, Intel HD Graphics Family, DirectX 9.0c compatible sound card, 2GB HDD, Mouse, Keyboard.
Minimum system requirements (Mac): OS X 10.8.2 or later. Processor: 2.5 Ghz Intel Core i5 Memory: 8GB DDR3 RAM Graphics: 64MB of video memory Recommended two-button mouse, or Apple mouse with Secondary Button / Secondary Click
Steam Greenlight - ScreenshotSatuday
99 Levels To Hell goes in Greenlight and a new character!
Posted by bom667 on Sep 1st, 2012
I need your help!
I just put the game on Steam Greenlight and I need all the upvotes I can get, you want the game on Steam right?!
Upvote 99 Levels To Hell here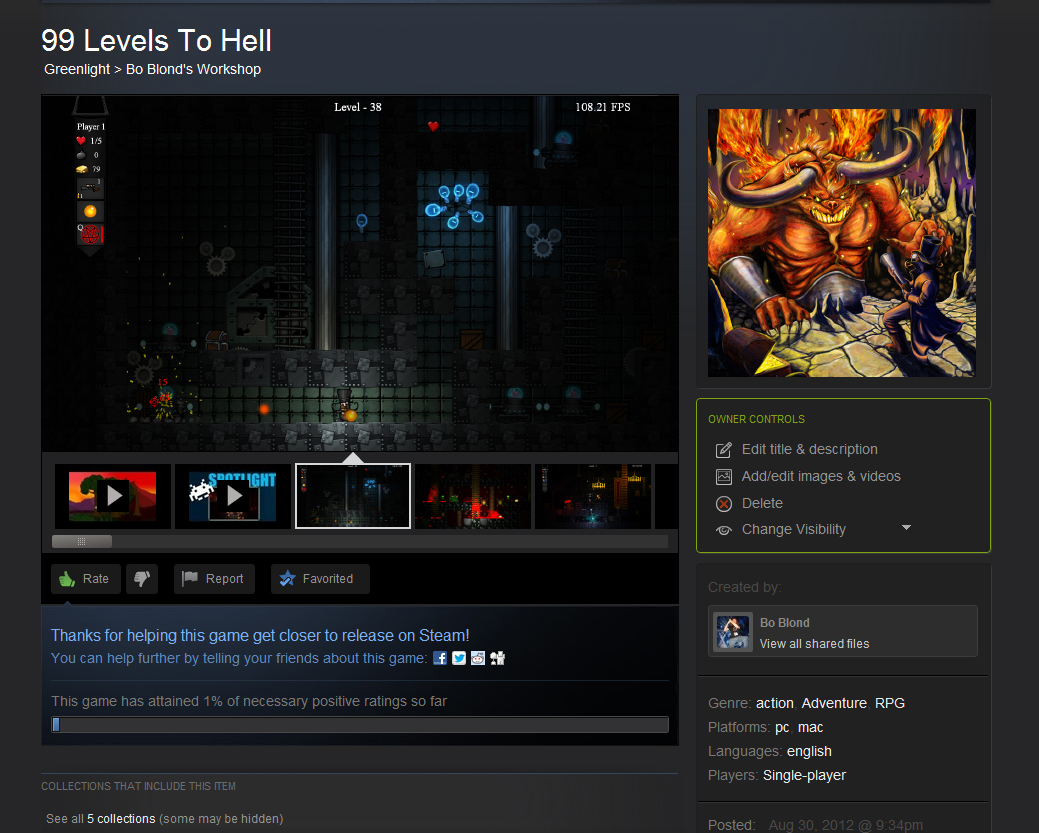 I'm still working on the next dungeon and a new character.
The Major