3079 is a futuristic, open-world action first-person role playing game. You arrive on a planet experiencing constant war. It is your duty to find out why the warring factions cannot find peace on their own & hopefully restore it yourself. All areas, buildings, items, quests and characters are randomly generated. You will find unique lands & challenges. I hope you enjoy it!
"Just want to say again that this is a great game! For those of you who feel like its a minecraft copy just beacuse of the cube textures used you really need to rethink what a game is about! The game play of 3079 is nothing like minecraft it is pretty unique as well as how the weapons all have diffrent stats and colors kind of reminds me of Borderlands. However it is still an original idea for a game and i still play it from time to time. You should at least try the demo and if you like it please buy it and support fruit! :D Still give it a 9/10 !
Best Regards,
Adam" -- SeaNanners
Sequel @ 3089game.wordpress.com
3089 Update: Better graphics, roads & multiplayer preview!
3089 continues to improve! New user interface graphics, terrain generation features & multiplayer options are included in this update. Much still needs to be done to the multiplayer portion, but you can a sense of how it will work.
Posted by Phr00t on Jul 16th, 2013
Hey guys,
It has been awhile since 3089 had its last update -- been working hard on multiplayer & promotion during the IndieGameStand sale.
There is still much to do on the multiplayer front, but you can get an idea on how it will work. Basically, all single player games will be multiplayer games if you enable the "server" option -- which I hope most people will do. This will help increase the number of servers people can join. If you enable the "advertise" option, it will post your server information to the twitter account at Twitter.com. Make sure people can connect to your game -- you may need to enable port forwarding on your router to port 3089 -- you can read more information @ Portforward.com. Only a few things work at the moment, like finding & connecting to other games. You will be able to see the other player run around & you can send chat messages to each other (using the key), but many things like robots & damage are not synchronized yet.
There has been many changes to how terrain is generated. There should be more flat areas, but also some more varied hills & mountains also. Roads have been added, and the roads will tunnel through terrain or span over oceans where needed. You will get a small movement boost when traveling on a road. Due to the terrain generation changes, you may need to find a new backup station & do a "location rescue" when loading your game.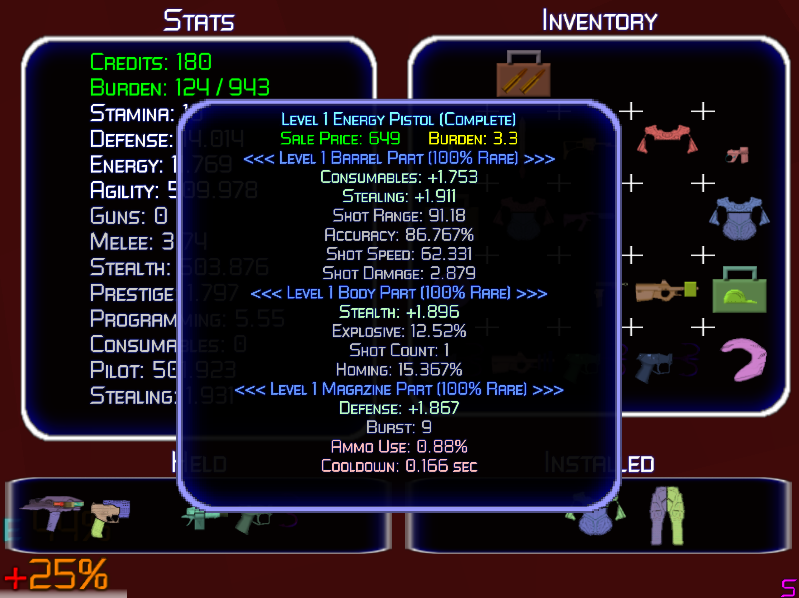 The user interface should look a bit better, too. I made a new dialog box image & organized item stats. Skill boosts are now grouped together and colored slightly green. "Bad" statistics, like "cooldown" and "ammo use" are slightly red. I've also labeled incomplete items more clearly.
Take a look at all of the changes @ 3089game.wordpress.com
What is next? I plan on filling in more multiplayer features. Eventually, I want specific features to encourage co-op play, even between players of very different levels. For instance, I can give rewards to high level players for helping low level players out. I also want a special "merge" mode where two players join together to create a superbot :)
OK, back to work!
- Phr00t