3079 is a futuristic, open-world action first-person role playing game. You arrive on a planet experiencing constant war. It is your duty to find out why the warring factions cannot find peace on their own & hopefully restore it yourself. All areas, buildings, items, quests and characters are randomly generated. You will find unique lands & challenges. I hope you enjoy it!
"Just want to say again that this is a great game! For those of you who feel like its a minecraft copy just beacuse of the cube textures used you really need to rethink what a game is about! The game play of 3079 is nothing like minecraft it is pretty unique as well as how the weapons all have diffrent stats and colors kind of reminds me of Borderlands. However it is still an original idea for a game and i still play it from time to time. You should at least try the demo and if you like it please buy it and support fruit! :D Still give it a 9/10 !
Best Regards,
Adam" -- SeaNanners
Sequel @ 3089game.wordpress.com
3079 v2.16 out! Maps, satchel bombs & more!
The second stable release of 3079 is already out, and some long awaited features finally made it into this update! Maps are here, and now you can destroy all types of terrain and make tunnels with destructive satchel bombs!
Posted by Phr00t on Apr 13th, 2012
Hey all,
If you haven't tried 3079 yet, now is a great time! Here is a preview of some of the things 3079 has to offer:
Since 3079 was made stable, it was time to get back to adding some fun new features. The biggest new feature in this release are maps. The maps act like a satellite uplink, showing you all of the explored terrain: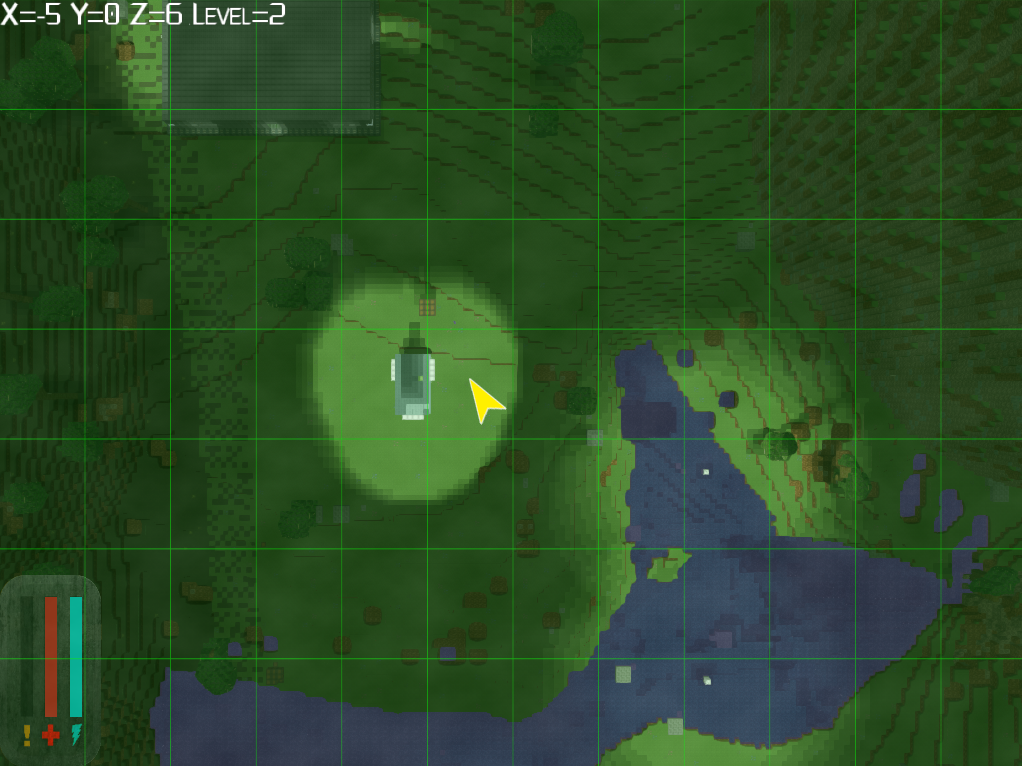 Other nifty new features are powerfully destructive satchel bombs, which can destroy practically all terrain and building exteriors. Construction tools got a "building points" increase: now they can be charged all the way up to 256 points (in 48-point increments). These two things combined should make for more building options!
Here are all the changes:
* Map system! Default "M" key toggles map, movement keys pan
* New destructible item: satchel bombs! They can destroy all terrain & building exteriors
* New controls to adjust sound effects and music volume independently
* Construction tool can now be charged up to 256 build points, in increments of 48
* Capital ships will no longer spawn over the starting city
* Capital ship weapons will now destroy terrain like satchel bombs
* Items should no longer spawn inside turrets
* Other blocks are now placed in buildings to give rooms more "character"
* Antigrav device will now be disabled and unusable when flying in a miniship
* You can no longer use /home and /goto commands while flying in a miniship
* "Protect target" quest timer will no longer count down if you are too far away from the target
* When protecting a target for a quest, the target will always accept a follow request
* Local IP address is now shown in addition to public IP when starting a server
* Made the starting Main Menu more space efficient
* Quests will now be generated a bit farther away
* Radar image was slightly improved