Over 1,500 Game Dev Tutorials Free July 1-10 at design3.com
design3 is offering killer deals this July. Get access to over 1,500 game development tutorials for FREE from July 1-10 and get 50% Off memberships throughout the month (use code INDIEME). Learn Unity, UDK, Blender, Source, Maya, 3ds Max, Softimage, Photoshop, Substance Designer, Mixamo and more!
Posted by design3 on Jun 30th, 2011
This July design3 is celebrating indie development by offering an awesome Indie-pendence Special!
July 1-10: design3 is going FREE, offering over 1,500 game development tutorials to d3 Free Members. Access EVERYTHING in the Training Center for nadda-zip-ziltch!
July 1-31: For the entire month of July memberships will be 50% Off! Use code INDIEME at registration to take advantage of killer membership deals:
o Monthly (first month only) - $9.98
o 6 Month - Only $49.98
o Yearly - Only $89.98
We're spreading indie game dev love this summer...tell your game dev friends :)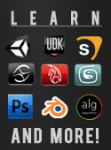 Best wishes, 
design3 Team
Follow: @design_3
Fan: design3 
Subscribe: design3channel